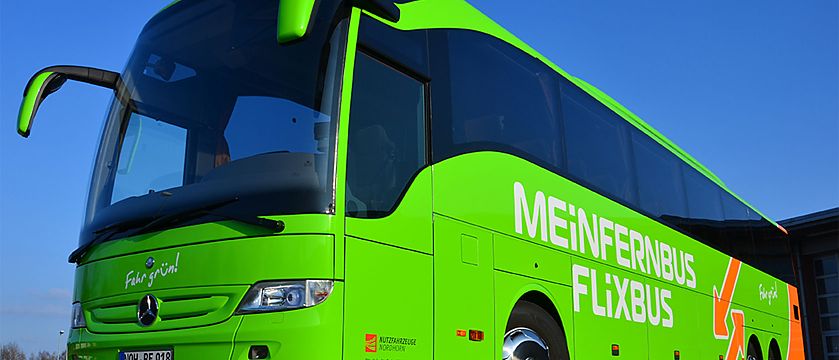 Brand Migration / Brand Integration
When a brand is converted into another brand, we talk about brand migration. The brand that is to be replaced can be integrated into an existing or a new brand.
When does brand migration make sense?
The reasons for brand migration are varied. They include for example the process of unifying several brand names under one umbrella brand, as was done with Rakuten. In order to offer a consistent user experience, the global innovation company from Japan gathered all of the companies it had acquired over the years under the umbrella brand in 2017.
Another reason might be a re-alignment of a company's brand politics. For instance, as part of the repositioning of Zewa Wisch & Weg, the products of the hygiene brand Bounty were slotted into the Zewa product line as Zewa Wisch & Weg Weiß or Zewa Wisch & Weg Economy.
M&A activities are most often the reason for brand migration. An example for this is Novartis. The new pharma brand was created in 1996 in a merger of the two Swiss companies Ciba-Geigy AG and Sandoz AG.
What methods of brand migration are there?
The conversion of one brand to another can be done instantly or step by step. We call it an instant or abrupt migration when the change takes place in just one step. The brand is replaced by the new brand immediately without any transition period—and without any corresponding information. This happened for example when the brand Treets was eliminated and absorbed by the brand M&M's.
The step by step migration is a longer process where both brands are sold parallel to one another for a transitionary period and consumers are informed of the change. This was done in the case of Bounty and Zewa: The Bounty-Logo was still visible on the new Zewa Wisch & Weg products for a time. Another example is Flixbus: After the merger with MeinFernbus in 2015, both brand names were still used (MeinFernbus FlixBus). Since May 2016, the company has been doing business only as FlixBus—the brand MeinFernbus disappeared.
Apart from the chronological dimension (abrupt or step by step), brand migration can also be differentiated by its results: As with Novartis, the result can be a new brand. But it is also possible to migrate a brand into an existing brand. The takeover of Unitymedia by Vodafone is such an example.
According to Voeth and Wagemann, there are four methods of brand migration: takeover, conquest, birth and new beginning. Which of the methods is the most suitable can be determined using five criteria: brand value, brand continuity, internationalization potential, time required and effort required.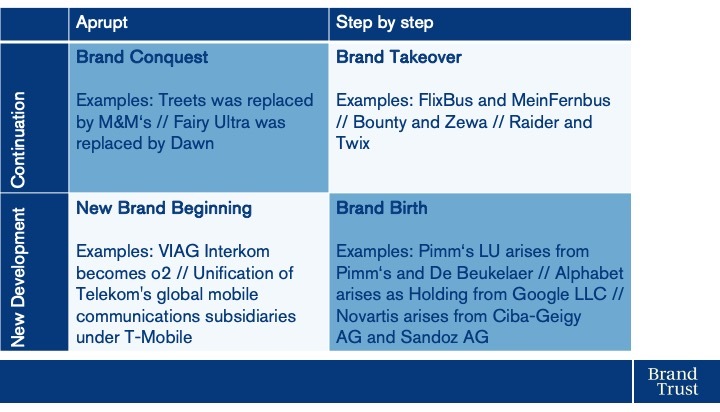 Own illustration based on Voeth/Wagemann Handbook of Brand Management 2004
What are the challenges of brand migration?
Communication is essential to losing as few customers and fans as possible when eliminating or converting a brand. If a brand suddenly disappears from the market or appears under a new name, consumers can get confused. This is what happened when the brand Treets was converted to M&M's. Treets was taken off the market in 1987 without any prior announcement, and the new brand M&M's was introduced. Even years later, the parent company Mars was having difficulties gaining back the market shares they lost as a result of the migration.
Another challenge is consistency of performance. In order to retain customers and fans, the new brand has to deliver the same performance the old brand did. Also, the existing brand architecture can be challenging during a brand migration. Companies must be mindful of possible reciprocal effects within the portfolio and avoid cannibalization effects.
What is brand integration?
The term brand integration is closely related to brand migration. Integration describes specifically the merging of the brand portfolios of two companies after a merger or takeover.
Do you have any questions or suggestions regarding this article? Then we look forward to receiving your e-mail.