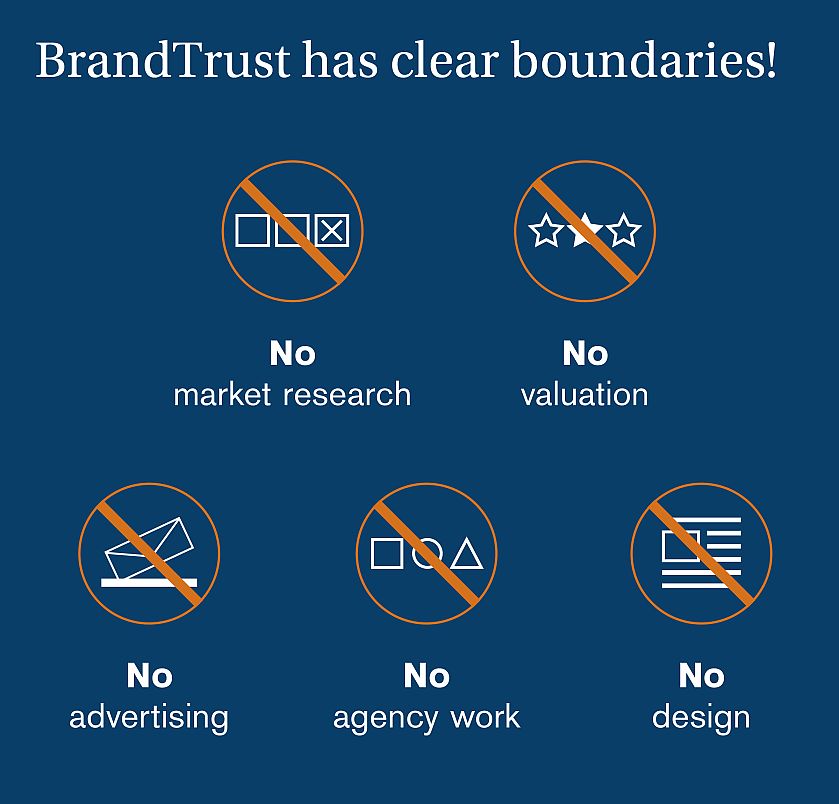 At BrandTrust, we focus exclusively on the development and implementation of effective brand strategies – for B2C, B2B, and service companies as well as for institutions.
That means: We offer no operative marketing, no advertising, no market research, no brand valuation, no headhunting, no SEO, no PR, and no sponsoring. We do not work on commission or any other form of kickbacks. We are committed only to our clients.
This focus bears advantages for our clients:
We have no hidden agenda. We do not have to satisfy any international network and do not have to sell our clients anything.
Our recommendations are based exclusively on our project goals and our professional convictions.
Our advice is always objective and not influenced by any third parties.
Thanks to our objectivity we can work effectively with other selected specialists, without any kind of conflicts over competence.
What is the reason for BrandTrust's clear focus?
One of the most important principles of brand management is: Strong brands have clear boundaries. Particularly as a service provider we have to draw these boundaries firmly, because: Unlike the producing industry, the costs of expanding a range of services are virtually zero. So everyone in the service industry copies everyone. Everybody claims to know how to do everything and uses every opportunity to copy – rather than comprehend.
The "Alsos" claim they can do it all
We call the drivers of this development, which is fueled by greed and not by competence, the "Alsos". Such "Alsos" are easy to spot, because the answer virtually every question with "Yes, we can do that also," or "Yes, we offer that also." You'll never hear a firm, confident "No" from any of these "all-rounders".
The "Onlys" offer excellence – within their boundaries
We on the other hand are an "Only": Specialists who are aware of their expertise – and know their boundaries. Experts who are more excited by the depth of a task than by its breadth. "Onlys" are sorely needed professionals that have superior excellence in their field. They clearly stand out from the mass of average providers and work efficiently with other specialists – for the benefit of their common clients, and without any contact anxieties. No jealousies, only complete and utter concentration on the client's problems and their solutions.