No. 1 Brands : Die Erfolgsgeheimnisse starker Marken
A book brimming with invaluable brand expertise: First, Klaus-Dieter Koch and his team explain 12 crucial aspects of successful brand strategy and brand management. In the next segment, 12 brand managers share experiences from their work, talking about challenges and goals. Finally, the book offers an interview with philosopher Peter Sloterdijk about the brand phenomenon.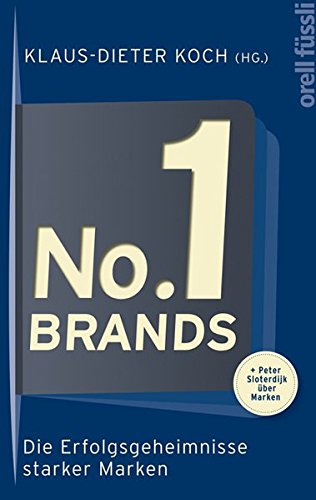 Why does Emmi's yoghurt not just taste great, but everybody wants it? What motivation did Stabilo use to make its pens the hit of the industry? Questions like these are answered in the book "No. 1 Brands: Die Erfolgsgeheimnisse starker Marken" (The success secrets of strong brands). It is the first brand textbook that combines theory and practice: with 12 interviews with successful brand managers as well as 12 specialist contributions by experienced brand consultants.
Klaus-Dieter Koch and his team of internationally experienced brand consultants illuminate numerous important facets of brand building, offer practical recipes and strategies. The book also features 12 in-depth interviews with owners and brand managers active in business from Germany, Austria, and Switzerland. The reason: "The true drivers behind successful brands are not concepts and methods, but the people behind them who take responsibility for the brands entrusted to them with all their energy and commitment," says Klaus-Dieter Koch.
The interviews are led by renowned economic journalists, who probe the personalities behind the brands and what drives them. The two success engines of successful brand systems – experience and personality – are viewed from different perspectives.
Some of the content of "No. 1 Brands: Die Erfolgsgeheimnisse starker Marken":
Peter Sloterdijk talks to Klaus-Dieter Koch: "The thing wants to have a career as a fetish"
Working for or with the customer? Good brand consulting is specialist consulting and systemic organizational consulting all at once
Ten preconceptions about brand strategy projects and a simple solution
Brand Change Management – no change without personal benefit
Christian Polenz talks to Bijan Peymani about the brand easyCredit: "Better a satisfied non-customer than a dissatisfied customer"
Success through trust: What we can learn from trustworthy brands
The drawer "Made in Germany"
Henrik Schunk about the brand Schunk: "SMEs must present their performance more confidently"
Peter Gerner about the brand Hoval: "The extraordinary brand from Liechtenstein"
About the sense and nonsense of slogans
From inefficient multi-brand chaos to superior multi-brand system
Elisabeth Schick and Anja Herb about the brand BASF: "We make sure that chemistry connects"
Robin Barraclough about the brand Emmi: "From milk to brand"
Successful digital brand management on the tightrope between "offline" and "online"
Andreas Brandstetter talks to Wolfgang Unterhuber about the brand: "The brand should thrill"
Differentiation in an undifferentiated market: How finance brands escape the interchangeability trap in five moves
Hermann Geiger about the brand A. Vogel: "How brands ensure that companies can be passed on to the next generation"
Jürgen Sutterlüty about the brand Sutterlüty: "Our secret of success is our 'Bsundrige' (uniqueness)"
Meaningful Brands – why brands grow more profitably with meaning and morality
Thomas Jorberg about the brand GLS Bank: "I'm an incorrigible optimist!"
The secret formula of the cult brand
Sebastian Schwanhäußer about the brand STABILO: "It is not about machines and capacity, but about brands, concepts, and strategies"
What mass brands can learn from luxury brands
Peter Marko about the brand Kitzbühel: "We have the most challenging ski run in the world"
Ariane Ehrat about the brand St. Moritz: "How to find the balance between a new umbrella brand and a traditional brand in tourism"
The compendium was created on the occasion of the ten-year anniversary of BrandTrust. It contains a special introduction – and an interview with philosopher Peter Sloterdijk about brands: "In the 20th century, we observed that some particularly successful brand creations nearly achieved the status of archetypes – as if they had been there since the beginning of time. We can almost imagine Adam with a bottle of Coca-Cola, or Eve with Chanel No. 5."
Publisher: Orell Füssli (2013)
Hardcover: 405 pages
Language: German
ISBN-10: 3280054974
ISBN-13: 978-3280054970