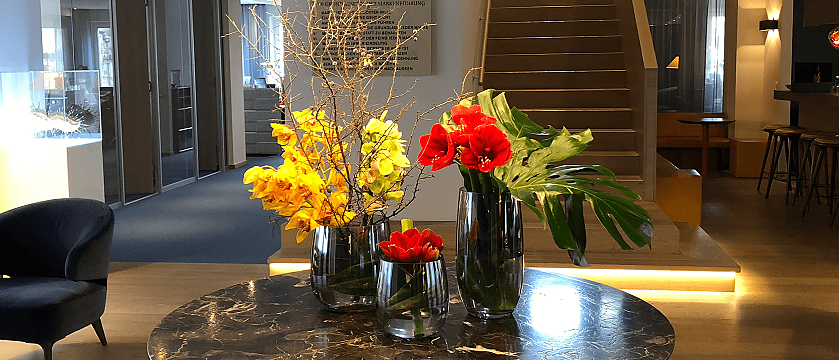 Semiotics
Semiotics, also called sign theory, is defined as the study of signs, sign systems, languages or codes. The term "semiotics" describes the meaning that results whenever signs are selected and combined. But what are signs? They can be, for instance, images, words, formulas, languages, gestures, and smells. They can influence the behavior of recipients – who do not even have to perceive the signs consciously.
How does semiotics work with brands?
Brands use signs to transmit certain signals – whether intentionally or unintentionally, whether actively managed or not: Perhaps a bouquet of flowers in the lobby, the choice of cookies and drinks in the conference room, the product packaging, their imagery or tonality. Every single brand sends messages.
Regardless of the industry, every brand needs semiotics. However, in order to avoid sending unintended signals that do not fit the brand and its values, companies need to deal with their brands' trademarks at every single brand touchpoint and manage them.
The brand's own code serves as differentiator
How do you use the right signs in brand management? Most brands use codes. Generally, these codes are ways of expression that immediately convey the intended meaning. For instance, there are masculine and feminine codes:
The feminine code is recognized by soft shapes, pastel colors or tender-sounding product names like "Cashmere Moments" or "Almond Blossom".
The masculine code uses dark or muted colors, angular shapes and dominant-sounding product names like "Anarchy" or "Apollo".
Brands that use semiotics successfully have a code that is exclusive to them – a code that makes them unique. To develop such a code, a company has to answer the following questions:
What business are we in?
What are we really selling?
What meaning do we want to communicate as a brand?
What do we as a brand want to stand for?
Which desires do we satisfy?
Based on the answers to those questions, brand managers can trigger important considerations: What codes can we use to express the specifics of our brand? How is our brand ultimately perceived by consumers?