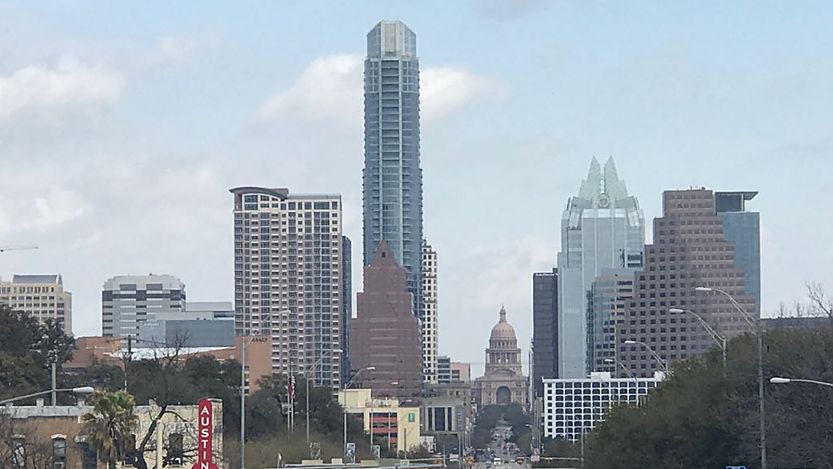 Our visit to the SXSW: Five days between science fiction and pragmatism
Abstract
The conference festival South by Southwest (SXSW) is all about interactive media, music, and film. The special character of the ten-day mega-event stems from a mix of festival, conference, and expo. The SXSW takes place in March of every year in Austin, the capital of Texas.
We came back from the SXSW with lots of inspiration in our luggage. Topics like the end of the smart phone, artificial intelligence, and the 120-day rhythm at HomeAway will stay on our minds for a long time. We were particularly impressed by the pragmatism of the US startup scene and its motto "Fail fast!"
Nothing works without data. No decisions are made without it. Gut feeling and visionary thought are obsolete.
Together with some of our customers, BrandTrust embarked on a Learning Journey to the SXSW to meet startups, CEOs, and investors during a two-day preliminary program and to experience the wonderful spirit of this conference.
There is no question that our five days at the conference festival SXSW 2018 in Austin were inspiring. But they were also confusing and got us thinking about a number of issues. Basically, the huge conference (over 5000 speakers, over 2000 sessions, over 1000 parties and events, visitors from about 100 nations) was more about attitude and culture than technology. Technology seems to be a means – but to what end?
I have now summarized the insights I personally gained in Texas. It is a rundown of enlightening key points and original quotes I heard there, and my thoughts on the matter. It may be a somewhat unusual summary, but I hope that the spirit and the strong impulses sparked by the SXSW will come across.
SXSW in a nutshell – four conclusions I drew in Austin:
1. Digital is normal: What we think of as the digital transformation and its protagonists – depending on our fundamental attitude we perceive it as a story of salvation or the work of the devil and associate it with myriad hopes or threats – has become a mature, differentiated, and segmented industry in the US.
It is no longer about matters of belief, but about a pragmatic approach to the facts. Where the consulting sector is concerned, this pragmatism culminates in statements like "Business Consulting is Digital Consulting".
2. Failing is part of the job: Startups fail an average of five times before they are successful. About 90 to 98 percent of the original ideas are not ultimately part of the business model.
3. It's all a matter of approach: Attitude, culture, and speed are the deciding factors of the digital economy. If one of the three is missing, even the best business model will not work.
4. Digital means data: Every entrepreneur should think about the question of how data could potentially destroy his business – or how he can use data to reinvent it.
And these are the eight more in-depth lessons learned I brought back from Texas:
1. Why Austin is the tech capital of the world
What makes Austin, the capital of Texas, so special? On the surface, it is a mid-sized city in the rather boring and agricultural Southwest of the US. But it is home to Texas University, one of the largest public universities in the country. In the 1970s, Austin was able to attract an facility of IBM. The low cost of living and the many tech graduates of TU tipped the scales.
Today, Semiconductor – along with many other tech firms like Apple, Microsoft, and Oracle – makes up the largest and most important business sector in Austin. Apple alone employs roughly 12,000 people here. Neighboring San Antonio became a hub for cyber security thanks to the military and the NSA. About 200 people a day (!) move to Austin. Most of them come from Silicon Valley, the rest from Boston and New York, the other two big competitors for the title of most important location in the tech industry.
Apart from the low cost of living, what makes the city of Austin so attractive is its atmosphere. The Texan town has long been known as the "Live Music Capital" of the nation. Austin is proud of its many bands that entertain residents and visitors with every conceivable style of music.
This is how the SXSW evolved: In the late 1980s, a music festival was started in five bars. Step by step, it developed into today's SXSW with its unique mix of the three main segments music, film, and interactive, and draws roughly 200,000 visitors from around the world.

The Austonians' attitude toward life seems to be the key to a lot of the city's achievements. For example, everything in Austin is immediately made into a "festival". Congresses and expos? They don't do those here.
These are the positionings of the most important US cities:
New York: Be Rich
Los Angeles: Be famous
San Francisco: Be powerful
Boston: Be smart
Washington D.C.: Be an insider
Austin: Be yourself
SXSW lesson learned:
Reason for success of Austin as a tech city attracting new talents: Cheap living costs + nightlife theory

2. Artificial intelligence – a matter of course
In Germany, artificial intelligence (AI) is still a magic word that sounds promising and spooky all at once. It sounds like something in the distant future. Not so in Austin: AI was one of the dominating topics, from technological innovations to stern warnings by Tesla founder Elon Musk.
Of the world's nine main investors in AI, three are Chinese (BAT: Baidu, Alibaba, Tencent) and six are American (GAFA, Microsoft and IBM). The rest of the world, including Europe: Zero.
AI indeed seems to be on the brink of penetrating all areas of life, of supporting us in our daily lives, and thus becoming indispensable in a very short time. When you hear about if for days on end, AI almost becomes taken for granted in our daily language. That is food for thought.
This relates to the topic "Taxing Robot Income", which kept coming up at the various SXSW panels: If AI takes over a substantial part of the value chain and replaces more and more people: Will it have to pay taxes on this value, which are then used to supply those very people? (We already talked about this issue with Jewgeni Morozow at our BrandTrust Future Circle 2017.)
Perhaps a quote by one of the startup founders we visited prior to the SXSW sums it up best: "Solving problems with technology, not with people." Elon Musk warns of another scenario with palpable concern: "AI is far more dangerous than nuclear weapons."

SXSW lessons learned:

By 2020, customers will manage 85 % of their relationships with enterprises without interacting with a human.
By 2021, 50 % of people in industrialized nations who interact with computers will use voice. Your unique voiceprint divulges your health, age, emotional state and where you are.
Dimensions of Artificial Intelligence (AI):

Automation in processes, marketing and communication = cost reductions.
Augmentation = enhance people to make better decisions
Disruption = learning software can build completely new business models
3. Future topic "Cybersecurity"
We see and use about 4 % of the internet. That means: 96 % consists of the "Deep Net" (closed network) and the "Dark Net" (anonymous network). Cybercrime seems to be turning into an everyday crime like theft, which will concern every person every day.
Price list for cybercrime:
$ 5 per social media account
$ 10 for a fake credit card
$ 15 for a fake ID
$ 30/hr for a "denial of service" attack
$ 150 for an account with a US bank
4. Confidence rather than hesitation
If there is one behavior we Europeans noticed in Austin because it permeated everything like a common thread, it was the attitude with which the many digital topics are approached and which the startup world lives by. There is nothing fearful or hesitant about it. No "What if?" Instead we noticed assurance, self-confidence, and a virtually inexhaustible optimism. No clinging to ideas that lead nowhere – or to people who aren't willing.
Everything is done fast and has to lead to a result in a foreseeable amount of time. Agility and pragmatism are the tools for success. The willingness to act repetitively and keep on changing or adapting the original idea is crucial. So are unconditional testing, listening to the market, and getting continuous feedback.
And: Nothing works without data. No decisions are made without it. Gut feeling and visionary thought are obsolete.
SXSW-Learnings:

You aren't being paid to believe in the power of your dreams.
Ideas have no market value – it's execution.
Make something people want (not what you want). Check your idea with the market. Unlock human potential.
Never underestimate the power of stupid people in large groups.
The most important resource of our planet is us.
Elon Musk: Expand scope and scale of human consciousness.
Tim O'Reilly: Never do right things for wrong reasons.
Do it – quickly – fail – try again. Time pressure is good.
200 % growth rate per year is not a big deal.
A product plan is as important as a cultural plan.
Easy decisions – hard life, hard decisions – easy life.

Who is innovating?
Startups 51 %
Universities 31 %
NGOs 9 %
Big Corporations 6 %
Digital giants 3 %
5. Agility can be organized
Two examples showed us how the Americans are organizing agility:
a. The 120-day rhythm at HomeAway:
The founders of HomeAway didn't have a business idea, they just had a plan: They wanted to consolidate the fragmented business sector of online vacation apartment agencies by means of takeovers. That was 2005. They drummed up 160 million US Dollars in capital and bought everything they could find worldwide that fit their focus.
Ten years later, they sold their company, which had become the world's largest vacation home agency, to Expedia for 3.9 billion US Dollars. Their goal after the takeover: "Becoming a scientific company. No decisions without data."
HomeAway operates on a 120-day planning cycle rather than the commonly used 360-day planning cycle. Each cycle begins with a 4-day event. Ideas and innovations have to be pitched in order to make it into the next 120-day cycle. HomeAway has 370 pitches per cycle.
b. The "12 Weeks Pre-Accelerator"
Yes, the "12 Weeks Pre-Accelerator", or 12WPA for short, really exists. It comes before the accelerator, which in turn is the preliminary stage of the incubator. "Fail fast" isn't just a motto, it has actually become a business model.
Incidentally, the 12WPA also offers a workshop called "Become a Brand in 3h". For those who like it even faster: Since it has been proven that the attention span of millennials is getting shorter and shorter, the SXSW workshop "Storytelling in 3 sec" was booked solid twice.
What is noticeable again is the American fixation on "Doing and Result". It has happened to me several times that I was not asked how something was supposed to take place, what the individual steps would be, and what methods I intended to employ to achieve the desired result. Instead I was asked: "What needs to happen to make you happy?"
It's not the way that counts, only the result. We Germans explain too much.
SXSW lesson learned:
Test – Learn – Adapt
Money versus founder time.

6. Digitalität und Marken
If you believe some German protagonists, brands are becoming less important in this age of digital transformation. We heard this theory in Austin as well: "People would not care if 74 % of brands disappeared".
On the other hand, brand-related sessions were overcrowded, for instance "Brand Storytelling", "Brandbuilding in the Digital Age", or "Secret of Cult Brands". In addition, absolutely every startup we visited has the goal of becoming a strong brand. Some are already looking into topics like brand expansion and brand architecture.
One thing was clear: The question is not "Brand or no brand?", but how the nature of brand management is changing. It's not about the "if", but about the "how".
Simon Shinek's "Why" was omnipresent. Everyone seems to be looking for the deeper meaning of their actions or their brand. Hardly anyone talked about business plans anymore – and if they did, it was usually dismissive. Virtually every "why" answer was based on a life scarcity.
The core insight on the topic of brand: Below the marketing surface, the digital community seems to consider the brand to be a system of relationships and trust.
SXSW lessons learned:

Purpose instead of plans: The higher purpose is THE important issue at SXSW.
Example Instagram: Strengthen relationships through shared experiences.

Sharability is the new currency.

Custom imagery is 7x more trustful than stock imagery.
Brands are important, when it is easy to copy. No difference in product, whole difference in brand.
Marketing is 84 % IT-driven.
It is important to have a grand idea of who you are. Remain constant.
It's all about personal connection and trust.
National Football League NFL on Social Media: "Thank You" posts (loosing team) overperforms the winning posts of the winning team.

The social habits of cult brands:

Highlight your tribe
Inspire your audience
Celebrate your people
Don't be afraid of humor
Show your human side
Lean into your core

Uber – positioning development:

Phase 1: Uber was cheap taxi
Phase 2: Uber was your private driver
Phase 3: Uber connects people and makes a better world.
Bozoma "Boz" A. Saint John, Chief Brand Officer at Uber: "I am not in tech, I am in storytelling."
Interesting information on the side – about the battle of horizontal (Youtube) versus vertical (smartphones):
59 % of users are annoyed with having to turn their smart phone to the horizontal.
35 % of consumers fix their smartphone in the vertical
7. Diversity & Gender
Old white men rule the planet. That is supposed to change now: The gender and diversity movement seems to be unstoppable. Because #metoo and "timesup" are mere forerunners of a movement that pushes for changing the status quo permanently with the help of technology.
Philanthropist Melinda Gates gave a forceful and much-noted talk (only two percent of the total worldwide venture capital goes to female startup entrepreneurs) and introduced prominent female "sisters in arms". As usual in the USA: It takes a long time, but then it happens with a bang. As a 53-year old German male, you leave that kind of event a little stoop-shouldered.
SXSW lessons learned:

Companies with gender diversity doing 15 % more profit.
Companies with ethical diversity doing 35 % more profit.
8. Tech Trends:
Another well-visited talk (in front of 2500 listeners) was that of futurist Amy Webb. She introduced her Tech Trends for the eleventh time.
The three big Tech Trend fields are:
a. 2018 is the beginning of the end of smartphones.
Announcing the end of smartphones now is courageous and disturbing at the same time. However, there is more than one path leading to that conclusion: Stagnation of worldwide sales, development of alternatives like smartwatches, smart in-ear devices, new generation data glasses, and voice-controlled digital assistants. The multiple selections offered by visual systems are being pushed out by new interfaces, where digital assistants do the selecting for us. For brands, that means the old rule of being No. 1 will become a matter of survival, because in the future, digital assistants only know the brand or the product.
2018 is the beginning of the end of smartphones.

natural user interfaces
augmented + mixed reality
generative algorithms
digital assistants
faceprints + voiceprints

b. AI is already here. It just didn't show up as we all expected.
AI will make our lives easier without our noticing it. The horizontal connections of formerly separate processes creates over-arching and forward-looking ecosystems along the customer journey, isolated specialists will no longer have a chance.
AI is already here. It just didn't show up as we all expected.

Adversarial Machine Learning
Generative Adversarial Networks
Machine Reading Comprehension
Multitask Learning
c. Biology is one of the most important technology platforms of the 21st century.
Biology as a "Tech Trend"? That sounds strange at first. On closer inspection, however, it appears logical. People are seen as huge data sources – and previously incurable diseases offer startups a business model. The complete study is available at www.bitly.com/FTITechTrends2018.
Biology is one of the most important technology platforms of the 21st century
Crispr and Genomic Editing
Biological DVRs
Molecular Robotics
Smart Dust
Nano-Scale Ingestibles
Comprehensive Human Cell Atlas
SXSW lessons learned Tech Trends:

The four characteristics:

Tech Trends are driven by basic human needs.
Tech trends are timely, but they persist over long periods of time.
Tech trends evolve as they emerge. Trends are not static.
Tech Trends have dependencies and multiple points of convergence. They materialize as a series of un-connectable dots, which begin as weak signals on the fringe and move to the mainstream.

The Senior Leaderships Vicious Cycle of Doom:
That's how so many smart people and senior leadership teams miss big events in technology:

"Never heard of it – it's dangerous – I get what it is, but it's irrelevant to my business – it's probably useful for my business – It's part of our daily routine, we use it all the time – Damn! How did I miss it?!? – Never heard of it ..."
"Short version: Never heard of it – Ok, I get it – Let's just do what we've always done, but newer."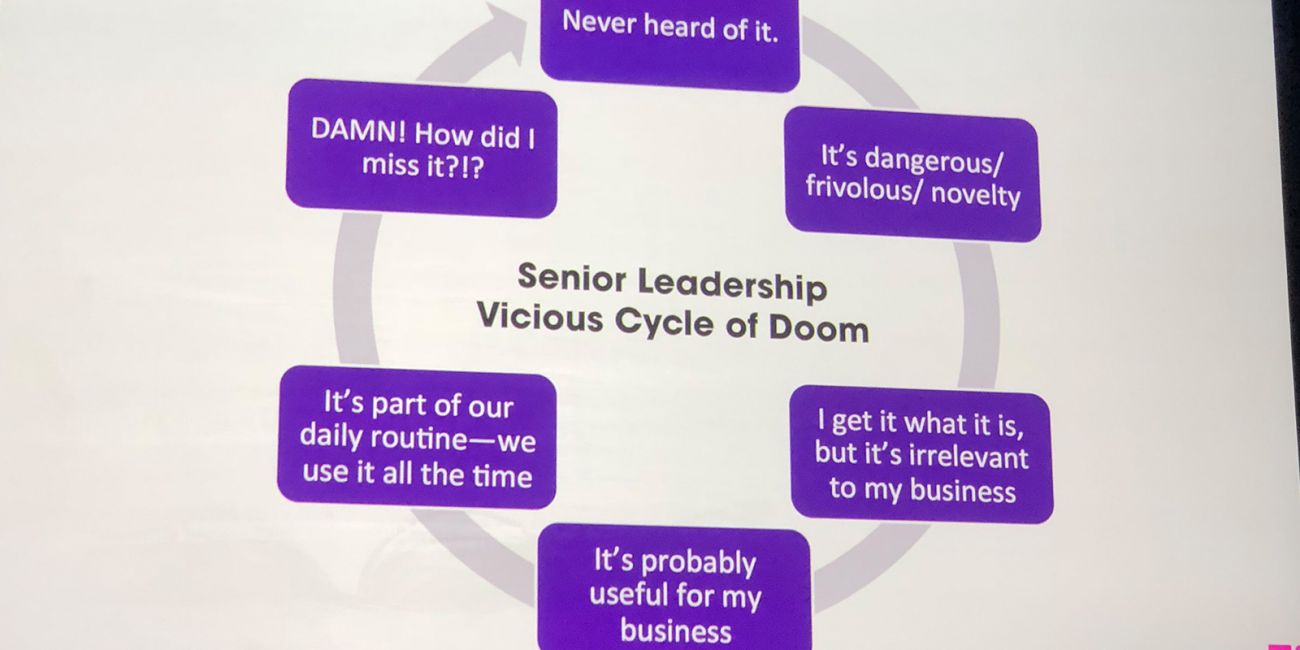 And finally: The SXSW was full of visions, but these four struck me the most:
Mars makes mobile: Elon Musk has promised to offer short trips to Mars starting next year.
Technology does it better: By late 2019, self-driving cars will be driving better and more safely than cars controlled by humans.
Human Data is The Next Oil: Everything people provide in terms of data will become the world's most valuable resource in the age of AI.
The digital "I" will survive: Even now, a lot of work is being done with the goal of making people immortal by digitalizing their personalities.
You would like more insights? In our SXSW-Blog, we have recorded our impressions, with lots of images and videos.
See you next year, Austin!