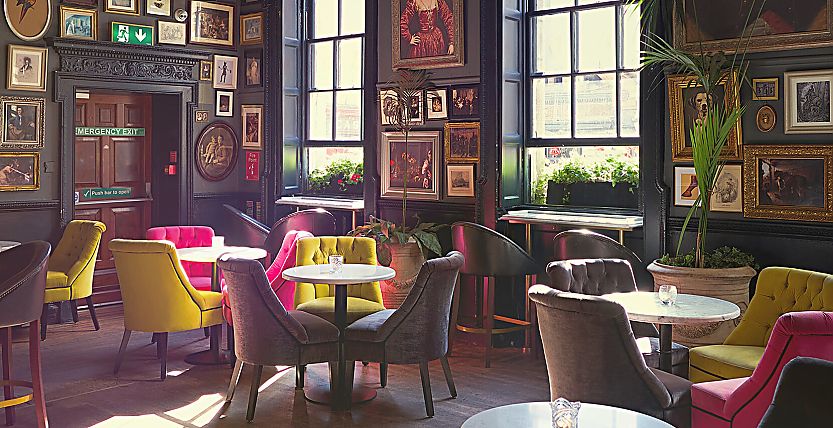 Why every hotel needs a clear brand positioning
Article
4. Februar 2019 ▪ Reading time: approx. 3:40 min.
In family businesses, the values often match the personal values of the founders. The identity is often deeply rooted and shapes the character of a hotel for years.
Brand touchpoints are among the key elements of brand management for hotels. Because this is where they can make their personality tangible for guests, let them experience who they are. Sounds logical, right? But in fact: This is exactly where many hotels don't have a structured approach.
Surely, every hotel manager can name a lot of touchpoints in their establishment off the top of his heads that are important to them. But are these also relevant to the guests? What is their impression, for example, of a ski hotel in the Austrian Alps that offers Asian specialties for breakfast – but no local cheeses? Or of a conference hotel with an unimaginative menu that says: We serve the same old frozen dinners?
Quality and brand fit of a touchpoint – two separate topics
Let's first of all clear up a common misunderstanding: We are not dealing with general quality improvement. Why? Because that happens at the product level – brand touchpoint management happens at the brand level.
Of course a hotel must never neglect quality; investments in infrastructure, service and food & beverage are indispensable. But that does not mean that such optimizations support the brand. Brands are all about how something is done. The basic question is: What must a touchpoint look like to express the hotel's brand?
Quality is important, but it is a very general aspect because it often neglects to differentiate. A guest can rate a meal as good or bad. He can like the room or dislike it – even when the quality is right and all the requirements are met.
Brand management is not so much about "liking" or "disliking", but about the brand fit: Does the new restaurant design, menu and bedtime treat fit the hotel's brand? Or does none of it really fit – but it's offered anyway because it happens to be trendy at the moment and the competition is doing it too?
The positioning is the key to success
To know whether a touchpoint appropriately expresses the hotel brand, you first need to have a clear image of that brand. This is why it is of key importance to develop a positioning first. Only then can a hotel orient, evaluate and optimize its brand touchpoints to their fullest potential.
But precisely this development and definition of such a positioning is the greatest challenge of all for most establishments. It has to be solid, since all further decisions will depend on it. If the positioning takes the wrong direction, it will have long-term consequences. Doing nothing – perhaps for fear of making the wrong decision – is also detrimental for the future.
To make correct and sound decisions, it helps to take a look at the past – regardless of whether a hotel is 5, 10, 50 or 100 years old. What values made the hotel into what it is today? In family businesses, these values often match the personal values of the founders. The identity – and thus the DNA – is often deeply rooted and shapes the character of a hotel for years. If that identity is known, management can consider which direction the hotel should go. This approach can prevent mistakes, and it preserves authenticity.
Avoid too many messages
There are different options for a hotel's evolution. The biggest challenge is to have the courage to make a clear decision, and to focus. Brands are always unambiguous, never a little bit of everything. Many hotel brands fail at this task because they want to be well known and please everybody. As a consequence, they do not develop a distinct profile – and guest don't know why exactly they should choose this hotel and not another. Then they often decide according to the price, because they can see no other differentiation.
In summary, that means: A clear positioning is indispensable in brand management of a hotel. It doesn't even need to be a unique USP; in saturated markets that is a relatively futile endeavor. Everything has been tried and done. And anything that is actually new and successful is immediately copied.
Only focus can make a hotel meaningful
The solution is courage to focus and the courage to use that focus consistently. A hotel that persistently concentrates on one topic is associated with that topic in the long term. It can build its significance based on that topic. Such a positioning gives direction to everything: products, target markets, target groups, sales, marketing – and brand touchpoint management.
The positive consequences can be illustrated by a simple example. Imagine a hotel with the following positioning: "The most charming conference hotel in Austria". The key is the word "charming". So what must the brand touchpoints of the hotel look like so guests perceive it as being charming? There probably are already a number of offers with this positioning, like a small palace by a lake. But infrastructure alone is not enough.
The charming character must be tangible at the many individual brand touchpoints – at the reception desk, in the room design, the welcoming, the conference room, the selection of items on the menu, decoration, signs, service, all the way to the farewell – only then will guests experience the positioning.
The brand comes to life at the brand touchpoints
How influential the positioning is becomes clear if you replace the requirement "charming" with another word: for example pure, extravagant, familial or surprising. The consequence: the touchpoints, their style, the entire image of the hotel would be completely different. We would be dealing with a different brand that is interesting to different target groups.
The positioning gives direction to a hotel that considers itself a brand. It answers not only the question whether the touchpoints fit the brand but also how they need to be designed.
Such awareness is important, because these touchpoints are ultimately where the brand is operatively implemented. Because the hotel employees are the crucial touchpoints, they must be intensely involved.
Optimizing the brand touchpoints – any hotel can do it
Of course purely qualitative optimizations are important for hotels – but they are hygiene factors that initially have nothing to do with branding. Positioning a hotel means: making this positioning tangible for the guest before, during, and after their stay – at the touchpoints. Any hotel can do it, no matter how big or small.
Hotels invest a lot of energy and financial resources every day: in new rooms, revising the menu, or just in decoration. The hotel management could decide on these things according to "likes or dislikes". Or they could consider what they want the brand to express at these touchpoints.
The positioning is like a guide that helps a hotel with all future decisions. With it, managers can give their hotel brands more expression – at every single brand touchpoint.