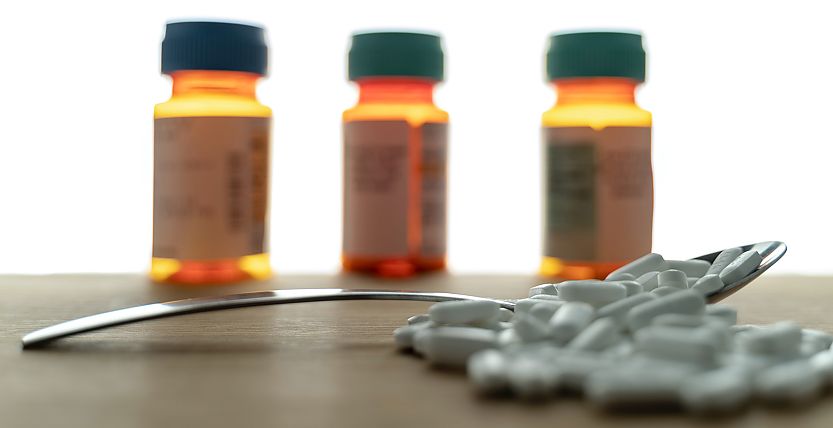 Lyma: How a mundane capsule becomes a lifestyle product
Article
7. April 2021 ▪ Reading time: approx. 4:20 min.
By focusing on just one single product, the brand Lyma satisfies an important consumer need: the need for complexity reduction.
The range of food supplements available in the market is huge: Thousands of brands are vying for buyers—and all of them claim that their products will do extraordinary things for your body. Keeping track of this overabundance is nearly impossible. Such brands confuse the customer with complex portfolios, hard-to-remember product names and a lack of values.
The lion's share of supplements is aimed at small groups of people hoping to gain a specific benefit from taking the product. Those looking for an all-in-one solution will find such supplements less than attractive.
Countless ingredients, a confusing variety of brands and products, too little transparency and credibility: This often leaves the buyer uncomprehending, willing to switch to another brand, and uneasy about assessing the product's value-for-money.
Another added factor: Supplements often focus on treating symptoms and alleviating some deficiency—they rarely address disease prevention. A large part of the business is not about preventing, but about treating problems.
Lyma—a supplement brand committed to wellness
Lyma shows us that there is another way. Everyone is talking about the very young dietary supplement business, especially in the social media. Lyma has managed to attract the attention of major magazines, influencers and stars—even though it sells one of the most expensive supplements offered worldwide. Its approach: The brand reveals the truth about common dietary supplements and offers consumers clarity, orientation, transparency and a sense of a new lifestyle. Lyma does it by striving for the perfect balance of science, nature and technology.
The brand has become a sensation in the social media. It is presented as the all-in-one solution everyone has been looking for.
There are 3 challenges that Lyma addresses differently from most other supplement producers:
Unattractive categories: Many supplement manufacturers position themselves in the medicine, healing or illness categories. But these are unattractive for consumers, because they are dominated by issues that nobody likes to talk about. In these times of digitalization, social media and self-optimization, the supplement industry needs to start thinking hard about how it can liberate itself from entrenched structures and begin to satisfy people's real needs and desires.
Lyma does not position itself in the medicine category, but rather squarely in the wellness sector. The brand calls itself "The Future of Wellness" and points the spotlight at self-optimization, feeling good and becoming the better "you". This brand promise is reflected in the brand communication and marketing, in the packaging and in the product itself. Lyma turns the capsule into a lifestyle product and fashion accessory—with a strong social media appeal.
Complex product: Lots of supplement brands like Dr. Böhm, Abtei, but also strong brands like PURE have bloated portfolios, some of them consisting of more than 80 different products. Consumers are often overwhelmed and lose orientation—the exact opposite of what strong brands should do for them. To most consumers, the huge variety of indications, ingredients and product names all sounds Greek. As a result, they become reluctant to deal with supplement products and manufacturers—unless they absolutely have to.
Lyma banks on a single product with only 9 ingredients. It is more than a multi-vitamin pill: a product that unites sleep, health, performance, beauty, focus and serenity in a single capsule. The approach is poised to redefine the supplement industry: nine powerful ingredients, the ultimate formula. Nothing more. (We'll leave it up to the experts to assess the composition of ingredients, available studies and clinical tests, and LYMA's claims of effectiveness.)
No communication of values: Ingredients or no ingredients: Often, the added value of a product is not communicated to consumers. Why should they buy brand A and not brand B? What is the difference? What justifies their price? Which brand, which product is right for me? Since these questions are not answered sufficiently, buyers embark on an endless search.
As a result, more and more pharmaceutical brands try to communicate the added value of their product. Biogena, for instance, relies heavily on the knowledge aspect. For the brand, this is not only a clear positioning; it has also delivered on the brand promise at all touchpoints: With the Biogena Academy, Biogena News and Biogena experience stores, the brand has successfully set itself apart from the competition.
Lyma has also managed to differentiate itself distinctly from other providers. It has been able to communicate the uniqueness of the product—at least on the surface. This is underpinned with celebrity quotes, proof of effectiveness, references, figures, data and facts. The added value is thus immediately visible, highly attractive, credible and differentiating.
In short: Lyma has found a way to take people on a journey that leaves them wanting more. Here are some lessons the supplement industry can learn from Lyma:
Rapid category shift: Lyma positions itself as a luxury wellness brand. Not a hint of medicine, of "dietary supplement flair" or unpronounceable ingredients. Lyma is a luxury supplement. It comes in a completely black box with gold letters on the front, looking like a box for expensive jewelry. Inside are the iconic copper vessel containing the capsules, and the shiny copper-colored capsules with their own logo are packaged again in a stylish bag. On top of all that you receive an exquisite, exclusive black Lyma Concierge card that only you can use to order more capsules and access the LYMA Wellness Concierge. The attention to detail in this accessory is truly spectacular.
Clear focus: Lyma claims they can prove that it is not necessary to take several dietary supplements. Life can be complex enough, which is why Lyma developed a one-solution-for-all, they state. This is what Lyma says about itself: It is the first dietary supplement company that uses nine of the best patented ingredients, which were proven by experts in over 200 clinical studies, in order to—as Lyma puts it—restore ultimate balance.
By focusing on just one single product, the brand Lyma satisfies an important consumer need: the need for complexity reduction.
Emotional storytelling: With its appearance, the emotional videos, the credible personal founding stories, the personal, authentic imagery and of course product staging on the website, the brand captivates consumers. Statements like "Helping you thrive", "You deserve to feel great" and "The difference is everything" are just about enough to make us believe in miracles. Storytelling is used to explain the extremely high price, for instance through comparison with other products and describing the exceptional ingredients. Added to this are stories about the packaging and product. The storytelling makes consumers feel that they are holding something very distinctive in their hands. A product they can identify with, that they like to be seen with, that gives them a new attitude toward life and that they proudly tell their friends about. A lifestyle product—not just a food supplement.
Whether Lyma is experiencing this hype based solely on its marketing, which is admittedly excellent, or whether the brand will evolve from hype to a real trend setter because the effectiveness of the product actually delivers on its brand and performance promise—this remains to be seen. Each individual customer will not know until they have invested the first 175 Euro (the cost for a month's supply). This brand rule applies to Lyma as is applies to any other brand: peak performances are the foundation of every brand—without them, even the best marketing is of no consequence!
No matter how Lyma develops: I hope the brand initiates a paradigm shift within the supplements industry. The sector needs to learn how to understand customer needs and adapt its activities and decisions with that understanding in mind.
Do you have any questions or suggestions regarding this article? Then we look forward to receiving your e-mail.