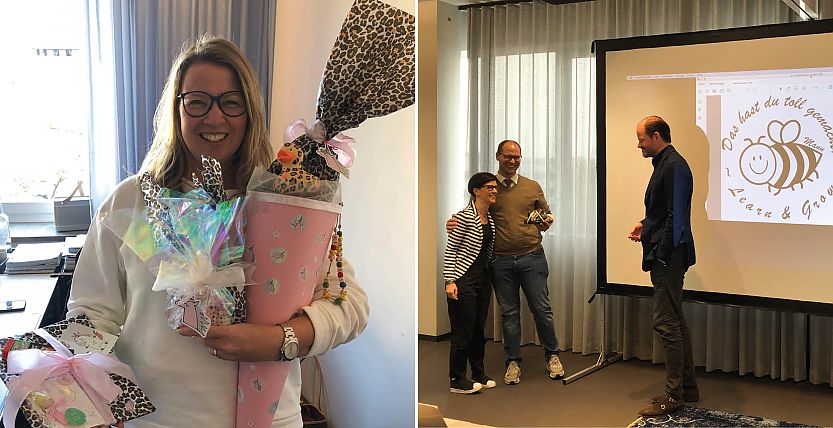 After the pandemic: Guiding principles for successful employer branding
Article
24. Juni 2021 ▪ Reading time: approx. 4:50 min.
We have made it through the corona crisis—so now what? Will everything go back to the way it was—or will everything be different? That's the question employees and job seekers are currently asking themselves. Will companies just fall back into their old patterns? Or will they re-think and redefine cooperation and communication?
What will it look like, the "new normal" in the working world of tomorrow? One thing is certain: Now is the perfect time for companies to give their employer brand an infusion of fresh impulses. And it is the best time to foster the value-oriented evolution of their internal company culture.
What do you need to be aware of at this point? These are our eight guiding principles:
1. Use only credible messages that match your character.
Successful employer branding requires clear messages: What can your company do and what does it offer? Such statements make you credible. Be an example of how to live your values and make sure your employees can feel them. Emphasize those peak performances that make your company special. This could be your unique values, as long as they are credible and are actually being practiced.
For example: An owner-operated company that stands for family values and relies on long-term employee development can credibly use continuous management and the promotion of leaders from their own ranks as wow criteria.
2. Memorable values help you to attract the right employees.
In the job market, a strong employer brand attracts the right employees and repels the ones that don't fit. What counts is not so much getting the best people, but getting the ones that are right for your business. That means: An applicant that delivers top performances but does not have the right values is the wrong choice. Performances can be developed over time. Values cannot.
These things you should definitely do without: half-baked promises, smoke and mirrors, catch phrases and the commonplace like "work-life balance". Surprise employees and applicants with authentic, honest and strong "wow experiences".
3. Keep an eye on all generations.
In order to polish up your employer brand, you need not only a finely tuned value system. You also have to address the wishes of your employees—and those are different for every generation.
At the moment, everything is focused on millennials (GenY) and baby boomers (GenX). Cooperation can be fraught with conflict, because the generations have different motivations for working. For companies, that means: You have to make all of them feel that they are welcome and needed.
4. Prepare for GenZ early.
Generation Z (GenZ) is likely to play a special part in the post-corona job market. The term refers to people born between the mid-1990s and 2010. That generation is currently entering the job market, its members now in their early 20s. In the next ten years, they will be the engine of economic growth. Projections are assuming that the number of working GenZ members will triple by 2030. In Germany, that represents an increase to 24% from currently 8% (Source: Oxford Economics).
What is special about GenZ: It is the first completely digital generation. They are the so-called "digital natives". They have more digital competence than all of the other generations that are currently dominating the nation's staff rooms.
This is where things become relevant for companies: The job market is changing; jobs of the future need more and more digital competence. New technologies will play a larger role. The attributes of GenZ seem to be perfect for work after the pandemic, because the way we work will be digitally charged and more dynamic. The agility, curiosity and creativity of these young people will be in demand in the future.
The combination of these attributes with the digital acceleration we experienced during the pandemic could mean one thing: GenZ will take a leading role in our economy much sooner than any of us thought possible.
5. Work-life balance is not enough anymore: You need different lures to attract GenZ.
While the number of GenZ employees will increase steadily until 2030, our economy will be lacking more and more employees of every qualification and hierarchy level. By 2030, Germany will be short 3 million specialists in vocational and academic fields. In the next 20 years, the number of people of working age will decrease by one tenth (by 2040). In other words, the job market will be an employees' market for the long term.
Companies have to get inventive if they want to attract the best people of GenZ (and among millennials)—because the standard incentives are hardly working any more: An attractive salary, social benefits, career opportunities and work-life balance are things that everyone is offering now. Employees simply expect them. And yet, HR managers are still using them in job ads.
What employers today have to offer is this: credible values and authenticity. These five aspects are really important to GenZ:
Flexibility on the job: Young employees would work more and stay with a company longer that allows for flexible working hours. For GenZ, flexibility is more than a nice extra: It is a necessity. Flexibility means working when, where and however the employee wants. This is the motivation young people need to deliver their best performance.
Transparent working culture: GenZ wants transparency, and that includes the workplace. These young employees are not afraid to stand up for what they believe in and what is dear to them. They want to achieve goals and advance in their careers. To do that, they want superiors who set clear goals and give open and regular feedback. A transparent working culture strengthens the trust of GenZ in its employers.
Social responsibility: GenZ supports non-profits more than other generations. They fight for change, from climate change to fighting inequality all the way to supporting human rights. These young people join organizations that address social changes and issues and support them actively.
The latest technology: Because the members of GenZ grew up with the internet and social media, they look for companies that use platforms like LinkedIn, Instagram, and YouTube and deploy current technologies. Despite their advanced technical skills, the generation appreciates personal conversations, "face-to-face" exchanges— which does include Facetime, Zoom and Teams.
Diversity: GenZ is the most diverse and integrative generation of employees to date. As such, it seeks out diversity in all aspects of life, including the workplace. That goes for ethnic and gender diversity, intellectual diversity, inclusion and belief. These young people believe that this very diversity is what drives innovation and leads to better decisions and a competitive edge.
Even though GenZ has different needs than millennials and baby boomers—there is one thing they all have in common: Ultimately, it is the social attributes forging a sense of identity that make an employer attractive.
Please don't make the mistake of simply writing this into your job ads. If you are really serious about it, you have to invest a lot of effort and creativity into developing those social attributes. But the effort is well worth it.
6. Show your edge, you don't need every employee to like you.
Values make the culture of a company visible. You could also call them "positive preconceptions". Such a value system has a strong character, it's edgy—and not everybody likes it. With its power to attract and set apart, it minimizes the risk of employees leaving the job because they find the company's values don't match their own.
The long-term CEO of General Electric (GE) Jack Welch sets a radical example. Repelling is important, says Welch, "because the wrong employees have the power to destroy the open and trusting corporate culture that we need to win and persevere today and into the future."
7. Make it clear why your business exists.
The most attractive employer brands tell us the reason why they are in business—for example Tesla with its mission: "To accelerate the world's transition to sustainable energy."
Companies like Tesla inspire by showing what contribution every single employee can make, and that sets them apart from other automakers. They address all people with this conviction, not only the car enthusiasts. Such a positioning makes the company attractive and unique. And it increases employee pride.
8. Be honest and authentic.
It does no good to confuse wishful thinking with reality, to blow communication bubbles and lure applicants with performances that you then fail to deliver. Talents will hit the road before the ink has dried on their employment contracts. Your employer brand must be credible.
Live on the inside what you promise on the outside. That always was and still is the key to success, and will be in the future.