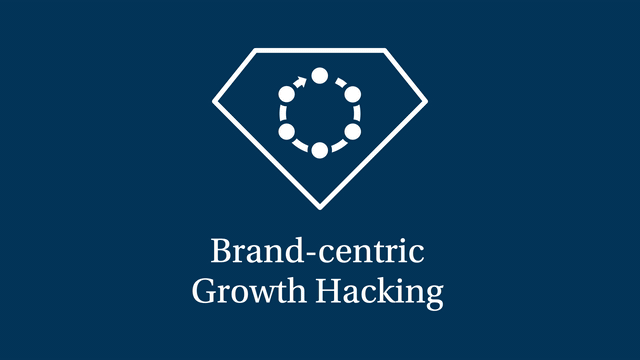 Growth in times of crisis: with "brand-centric growth hacking"
Article
25. Januar 2021 ▪ Reading time: approx. 7:30 min.
Individual units of a business are often overwhelmed by the fresh, unfamiliar insights and flood of value-generating ideas.
The year 2020 was a year most of us would probably like to forget. Marketing managers, too, find themselves battling its grave consequences. For instance, 62% of B2B companies reduced their marketing budgets significantly (Statista). For 2021, 65% of marketing leaders expect the cuts to continue (Marketing Week).
The entire media sector suffered loss of revenue in the amount of 63 billion US Dollars in 2020, that's nearly twice the slump after the world economic crisis, even after adjusting for inflation (Medieninstitut WARC)! Especially traditional channels were hit hard:
They account for nearly the entire drop. TV (-16.1%), radio (-18.4%), newspapers/magazines (-25.5%) and in particular out of home OOH (-27.3%) declined sharply. The big winners, on the other hand, were the digital channels: Online display (+3.3%), online video (+7.9%) and social media (+9.3%) continued the strong growth trend of recent years without batting an eye.
Digital channels are gaining momentum
It is no surprise that 76% of marketing managers now want to focus more on the digital channels. But for many, the shift is not an easy one to make, and fraught with risk. For one, it can only succeed with new, agile competences. For another, the media world's main currency is becoming increasingly less important: attention. According to a study by Microsoft, people's average attentions span has declined from 12 seconds in 2000 to less than 8 seconds today, and continues to decline, as a result of progressing digitalization.
This is one of the reasons why CEOs are expecting their marketing managers to seamlessly orchestrate the analog world with the digital. New technologies are to be used to personalize online and offline experiences in order to shift the focus back to people.
And with good reason: This shift can increase the efficiency of marketing activities by up to 30%, the strategy consultancy McKinsey states. Because the days when marketing was seen as a necessary evil and nothing but a cost factor are over. Marketing managers are increasingly called upon to forecast the ROI to be achieved through their measures and to justify their activities. The rule: If you can't measure it, it's worthless.
So to sum up: Marketing managers have to make do with smaller budgets. And yet, they are expected to take more responsibility for the company's growth than ever before. They are to do it all in an environment steeped in uncertainty, and preferably using the entire range of digital channels, tools and platforms, for which they generally lack the necessary competence. Times are truly tough for marketing managers, but as the Austrian journalist Alfred Polgar puts it: The situation is hopeless, but no serious.
Growth Hacking—the efficient marketing revolution of the startup world
Doing more with less: It is the mantra of a new breed of data-driven marketing specialists called "growth hackers." The term was first used in 2010 by Sean Ellis. As a marketing manager—for Dropbox and Eventbrite, for example—he was considered the first growth hacker ever, and during that time he defined what makes a growth hacker:
"A growth hacker is a person whose true north is growth. Everything they do is scrutinized by its potential impact on scalable growth."
Growth hackers have a T-shaped competence profile: They have a broad knowledge base across all marketing disciplines, combined with in-depth special knowledge in one or two disciplines (e.g. SEO, social media, content marketing). This versatile profile helps them to continuously find new levers within the company that can be manipulated to achieve more growth.
With the aid of measurable and scalable experiments, growth hackers search for potentials for improvement along the customer journey that promise the greatest possible growth. The German expert Hendrik Lennarz puts these "growth hacks" at the center of his growth hacking definition:
"Growth hacking is a combination of constant implementation of a maximum number of growth hacks and valid success measurement."
Originally developed in startups, growth hacking often pursues rather short-term goals. After all, it is all about facilitating exponential growth and preparing the founders' profitable exit. This approach is obviously not recommended for larger businesses and concerns. "Growth at any price" can damage their integrity and thus their brands. Especially in established enterprises, the primacy of growth should therefore not be scattered, but guided onto the right track with the help of a sound brand strategy. And the only way to do that is with "brand-centric growth hacking".
Volvo captivates with its growth hacks
One global corporation that has drawn attention time and again with its ingenious, brand-centric growth hacks is the Swedish auto maker Volvo. Their brand strategy is geared toward safety, that of drivers but above all that of the people they love. For instance, Volvo surprised audiences during the 2015 Super Bowl with the following growth hack: Every time a commercial of another automaker was run in the commercial brakes during the Super Bowl, viewers had a chance to win a brand new XC 60 for their favorite person. All they had to do was post a tweet with hashtag #VolvoContest on Twitter.
While Mercedes, Kia, Lexus, Toyota and others paid the equivalent of up to 4.5 million euros for a 30-second spot, Volvo drew everyone's attention with a fraction of the budget. With a total of 55,000 tweets and a sales increase by 70% the following month, Volvo pulled off a very successful growth hack that strengthened their own brand on top of it.
Growth hacking means constant experimentation and trial
But companies should not limit themselves by searching for that one special growth hack that will bring enormous growth. Because finding it is like finding the proverbial needle in a haystack. Rather, it is much more important to establish a culture of constant experimentation and trial in the company.
One prime example of continuous "brand-centric growth hacking" is e-commerce giant Amazon. Their brand strategy defines a clear goal: Amazon wants to become and remain the measure of all things in terms of customer focus worldwide. All activities, investments, product developments and marketing measures are uncompromisingly aligned with that one goal.
The growth hacking results that have emerged from this clear brand purpose are undoubtedly impressive. They include innovations like the Amazon Prime ecosystem, buying items with just one click, the shopping cart feature and same-day delivery. To develop it all, Amazon established their own in-house experimentation platform Weblab way back in 2011. Today, the lab conducts up to 12,000 incremental experiments a year, all to continuously develop the company's customer orientation.
In an open letter to stakeholders, Jeff Bezos emphasizes the key role of continuous experimentation for Amazon:
"One area where I think we are especially distinctive is failure. I believe we are the best place in the world to fail (we have plenty of practice!), and failure and invention are inseparable twins. To invent you have to experiment, and if you know in advance that it's going to work, it's not an experiment. Most large organizations embrace the idea of invention, but are not willing to suffer the string of failed experiments necessary to get there."
If growth hacking is a matter of course for startups and a proven guarantee for success for corporations, then you can benefit from it as well and grow successfully during these difficult times. What do you need to remember when you want to start the growth engine "brand" for your enterprise?
How to integrate brand-centric growth hacking in your processes:
1. Develop a clear common goal—with a credible brand strategy
A sound brand strategy is absolutely necessary for lasting profitable growth. At the same time, it prevents companies from losing their grip and direction in their growth hacking efforts and chasing all sorts of trends. Finding the right strategy is—contrary to what some design agencies would have you believe—not a creative wish list. Rather, it is about discovering your identity through self-reflection at the company level.
A good brand strategy ...
... is inferred from historic peak performances, typical associations and special milestones of the company, and therefore credible.
... addresses the relevant needs and motivations of a clearly defined target group and satisfies them better than anyone else, so it is attractive.
... expresses the unique identity of the brand in its appearance, its communication and above all in its customer experience, and thereby differentiates the brand from the competition.
From this strategic preparation, we can infer a so-called No. 1 position, which we want the brand to take over. It is a condensed expression of the brand strategy and formulates the brand's basic claim. For instance, Amazon wants to be the most customer-oriented provider worldwide, while Volvo does everything to make mobility as safe as possible.
In addition, the strongest brands can be expressed in just one term, their so-called one-word equity. This term is the highest level of condensation. It bundles the whole of a brand's significance for the lives of its consumers. Volvo stands for "safety", Amazon for "customer-orientation", Nivea for "care", and so on. That way, all employees know exactly what the brand is really about, and all efforts can be aligned with one clear goal. It's the only way the brand's defined meaning and the associated emotion can be consistently expressed at all touchpoints through products, services, processes and marketing measures.
2. Involve all departments of your company in your brand management
If the character of a brand is only superficially communicated and not applied in all departments of the company, we are often left with empty promises. The effect of the brand strategy, which is supposed to increase growth, vanishes into thin air.
But how do you convince colleagues, employees and superiors of the benefits of a clearly defined brand strategy? One tried-and-true option is to involve customers, better yet, long-term fans of your own brand. They often know the brand better than anyone else. Fans give constructive feedback, are thrilled to be appreciated, and can be important brand ambassadors, both internally and externally.
There are several formats and methods for constructively involving fans: For example in design thinking workshops, with creating customer personas and above all with customer journey mapping. During the latter, brand managers work with the affected department to select the most important processes in that department. That could be the registration process, for example, or complaint handling, or simply the way the customer uses the product.
The start: The search for ideas
With a group of eight to twelve customers, you work through the process step by step, from beginning to end. Together, the participants generate ideas for how customer problems can be solved better and in a way that is credible for the brand. The brand strategy serves as the guide post for often exuberant creativity.
This procedure is very efficient and easy to implement. It amazes us time and again what such simple measures can accomplish. The invited customers are often so excited to be appreciated in this way that they proudly tell everyone they know, and even refuse to be compensated for their time. The individual departments are often overwhelmed by the fresh, unfamiliar insights and the flood of value-generating ideas. They are also happy with the newly-gained close customer relationships.
The insights gained in the process serve as the basis for a common understanding of what central role the brand strategy can play for growth.
3. Develop a shared mindset: With the brand-centric growth circle
The biggest mistake you can make with brand-centric growth hacking is to look at it as a one-time, short-term project. Because it is so much more than that. It is the starting signal for a fundamental mindset aimed for brand-centric growth!
The joint generating of ideas as just described is only the first step. The next steps are just as important.
Idea selection: As a second step, the best ideas are chosen from the pool:
according to their anticipated impact on growth (the greater, the better)
according to the effort required for their implementation (the less, the better)
according to their fit with the brand strategy (the closer, the better).
Test scenario: Now, a valid test scenario needs to be developed for the selected ideas. This can be rather time consuming in the beginning. With a bit of practice, the scenarios that prove to be effective over time can be used as templates for future experiments. A test scenario usually consists of a hypothesis, a goal, a test period and a comparison value. For example: "We believe that, within 14 days, a landing page that is developed for a specific persona will lead to a 20% higher conversion rate than a generic landing page that addresses all personas."
Results analysis: After the test, the impact is checked: Was the goal achieved? If not: What could have been the reason? This is followed by the decision: Should we test the growth hack in other areas as well? Do we adapt the test and repeat it? Did the hypothesis prove true or do we abandon it?
Brand-centric growth hacking is a promising way to defy the uncertain circumstances the year 2020 imposed upon us, and to continuously achieve more growth despite smaller budgets. The important thing is to use the power of your brand to your advantage. Properly molded and applied, it can help you to point all of your employees in the direction of one common goal, thus unleashing an inspiring power and starting your internal growth engine.
Do you have any questions or suggestions regarding this article? Then we look forward to receiving your e-mail.