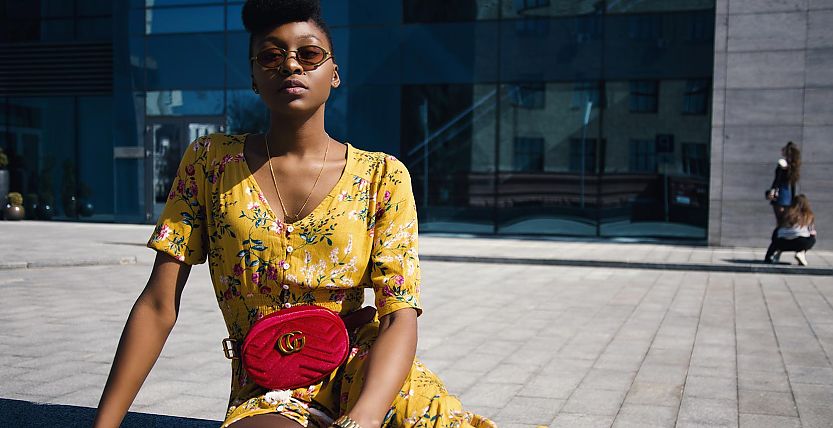 Courage in brand management: What we can learn from Gucci
Article
2. September 2019 ▪ Reading time: approx. 4:00 min.
"Gucci's differentness freed the brand from the propriety constraints of the luxury industry and opened up the space it needed to blossom."
What country has the highest density of perfectly fitting suits made of the finest materials, combined with loafers worn without socks? If you asked me that question, the answer would clearly be: Italy. When it comes to fashion, that nation is confident about its style, courageous and extravagant. This is no coincidence, but built on the country's history.
For instance, did you know that it was men who rang in the age of fashion in Italy – not women? During the age of the Medici, men expressed their personality and status through clothing of unsurpassed opulence.
The Italian fashion industry with its "Made in Italy" label benefits from this history to this day. These days, the world is admiring one Italian fashion brand most of all: Gucci, the most successful star in the luxury fashion sky.
Millennials and Gen Z love Gucci
Over the past three years, the luxury brand has enjoyed a brilliant run of success. During the first quarter of 2018, the former leather goods factory recorded nearly $2.2 billion in revenue – 48.7 percent more than a year prior. The fashion industry is watching the rise with reverence – not just because of the impressive sales figures, but also because the brand managed to win over the most demanding buyers alive today: the millennials and Gen Z. In 2018, sales to millennials (35 or younger) accounted for a whopping 62 % of Gucci's sales.
The brand's fastest growing buyers' group, however, are the real spring chickens: Gen Z (24 years or younger), as revealed by the BrandTrust Luxury Study 2018. How is Gucci doing it? What is the brand's recipe for success?
Gucci's stellar success is not entirely the doing of CEO Marco Bizzarri, but also the achievement of Creative Director Alessandro Michele, because Gucci's success story began when he was appointed to that position in 2015. The guru of textile eccentricity and floral opulence fitted the brand with a contemporary look: To do so, he bravely broke with standards and clichés of the luxury segment. The move was akin to "a super tanker pulling a U-turn at full speed", the German magazine Die Welt wrote appreciatively.
Bizzarri is the brand strategist behind the scenes – while Michele is allowed to let his creative exuberance run free and continuously recharge the brand with his energy.
The brand Gucci whisks us away to a fairy tale world
For nearly four years, Michele has been charging the brand Gucci with energy. He has breathed new life into it, made the brand heritage shine in a new contemporary light. He was able to re-interpret the fashion brand without forgetting Gucci's origins. Only one other label has succeeded at this kind of rebirth: Karl Lagerfeld with Chanel.
Michele builds a bridge between millennials and Gucci by giving the brand new relevance:
He transports people into a bold fairy tale world. The brand Gucci satisfies their hunger for romance, freedom and a perfect world. He knows how to tell authentic stories and give people something to dream about.
He breaks with gender roles. He elevates topics such as equal rights, self-realization and individuality to a new level.
He created a community of the like-minded, who are all looking for individuality. With his fairy tale style and penchant for eccentricity he created a community that is founded on common values and feels deeply connected.
The open-minded and liberated millennials of the world appreciate Gucci particularly for those achievements.
Meaning over status: Gucci addresses this wish
Long before other top dogs of the high-end segment, Michele and Bizzarri understood: In this digital world, the front rows of fashion shows are populated not only by high-profile critics who decide on the success or failure of a fashion brand. There are also the millennials: They draw information from an enormous pool and use it for their critical views.
Such buyers are not status-driven – they like brands that provide meaning, stand up for their values. Gucci was one of the first to recognize this power and aligned its brand management and marketing accordingly.
As a rule: Millennials are not afraid to spend more money on luxury than previous generations. This is due to their optimism – they look forward to their future income and love indulging themselves with beautiful things. But they also have expectations: of meaning, authenticity and passion. Luxury brands have to address these three factors if they want to conquer the hearts of millennials. The brand Gucci has done it – with its courage to break with conventions and be different.
Gucci knows: Only those who live their values are authentic
Many brands make one crucial mistake: They focus too much on the product. They underestimate how important a sound brand foundation is. Gucci, on the other hand, has understood this and fosters its values with incredible consistency. The brand puts its money where its mouth is. In October 2017, Gucci initiated the "anti-fur" movement in the high-end sector, taking an unequivocal stand. Since the spring of 2018 Gucci has been fur-free. From now on, the famous Gucci slippers will have to make do without their real fur insoles. Gucci is putting itself on a level with StellaMcCartney, who was the first luxury brand to banish real fur and leather from its collections.
Young customers appreciate this consistency. Too often they have been disappointed by other brands: by those who only claim to stand for something because of social pressure. Millennials critically examine what brands do. When they detect a break with values, they don't hesitate to voice their criticism openly – in the social web, for example.
Gucci's recipe for success is as simple as it is obvious: A brand strategy has to be lived all the way from the top. So management decides over success or failure of the brand. It has to transport the brand into the organization in keeping with the values. Bizzarri is a prime example for living brand culture in the company, complemented by Michele's inexhaustible creativity. This success formula is refined with technologies that allow them to maintain a high level of customer focus and develop unique customer experiences.
Purpose versus Product: Gucci gives meaning
When dealing with millennials, the word "purpose" is doubtlessly a key term. Why does a brand do what it does? Brands these days are expected to be providers of meaning, not mere profit machines. Millennials are particularly strict: They question every action and check it for transparency, ethics, sustainability and authenticity.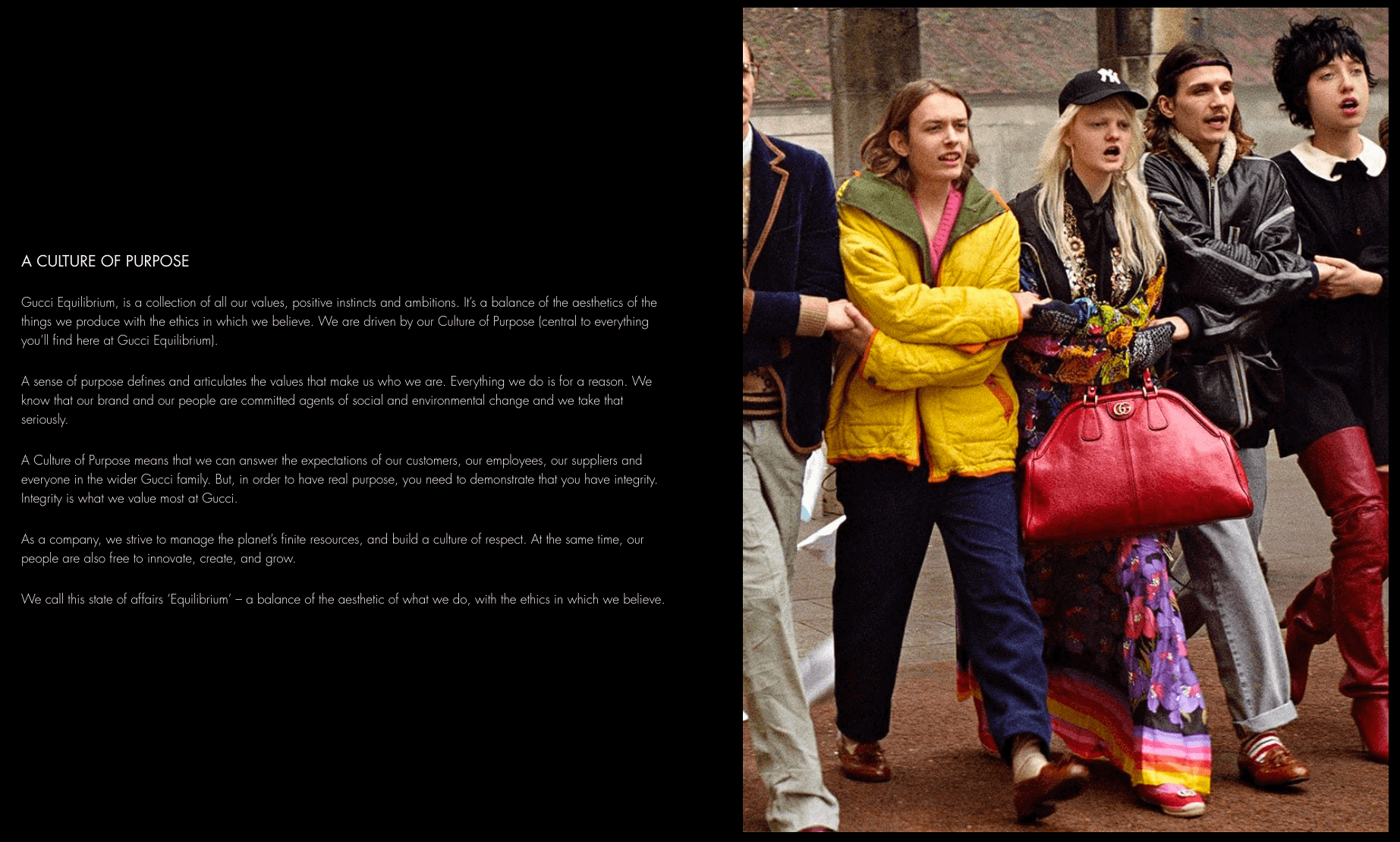 Gucci is aware of the influence of this group of buyers and has founded Gucci Equilibrium. The program provides information about CSR activities, environmental impact and the structural innovations that Gucci is driving forward. This striving to do good engenders credibility and admiration among young buyers.
Gucci became a star brand in just a few years. It is an example for what can be achieved with consistent brand management. Because it builds everything based on its brand DNA, Gucci enjoys the highest level of credibility.
Focusing on the guiding principles of millennials with their high buying power and the brand's contemporary astuteness give Gucci relevance. Or, more to the point: They give the brand its reason for being.
The icing on the cake is the courage factor: Gucci's differentness freed the brand from the propriety constraints of the luxury industry and opened up the space it needed to blossom.