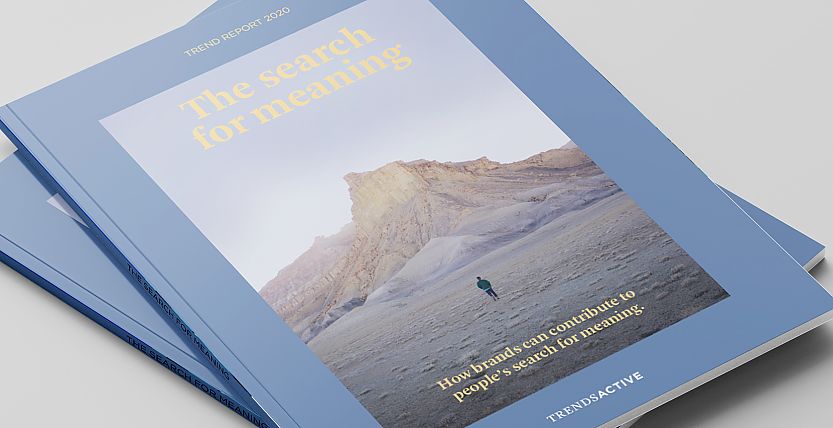 Trend report - The Search for Meaning
Article
27. April 2020 ▪ Reading time: approx. 3:30 min.
There is a happiness paradox: people are looking for happiness en masse, but this search does not seem to lead to happiness. People know very much about how they can become happy and many Western countries have a high score on the World Happiness Report. Nevertheless, people continue to spend more time and more money on becoming happier. Loneliness is a social struggle, and the number of psychological complaints such as depression and burnout is increasing. Furthermore we are living in 'corona-times' where people consciously and unconsciously experience what it is that is most meaningful and valuable to them. This article provides some highlights from TrendsActive's and BrandTrust's trend report on peoples search for meaning. This report provides crucial food for thought for every CEO, CMO, brand manager, marketer or creative to seize the challenges brands face in the coming years.
From hedonia to eudaimonia
How is it possible for people to not become happier, despite all their efforts? In order to find an answer to that question, we should look at an important shift that is currently underway: the shift from the need for a happy life to the need for a meaningful life. Looking at philosophers of back in the days, happiness is about the Greek 'hedonia', which is about pleasant moments and feeling good, whereas meaning is related to 'eudaimonia', which is about doing well and getting the best out of yourself. Fast forward to today and we come to learn that a meaningful life is one in which people focus on living in a way that actually matters and provides more meaning.
Thanks to the results of contemporary scientific research into both concepts, we can better understand the differences and similarities between happiness and meaning. Results show that there's a difference in the degree of long-term satisfaction. For in contrast to the experience of happiness (hedonia), the experience of meaning (eudaimonia), offers satisfaction of much longer duration.
Long-term brand relations
This explains why people search for meaning in life instead or next to striving for moments of happiness. And that is precisely why this is interesting. As a brand, you naturally want to make a lasting impression and build a long-term relationship with your customers. By focusing on happiness, you are of added value in people's lives for a brief period, but with a focus on meaning you are meaningful over the longer term. If you do not want to lag behind as a brand, and want to be relevant in your customer's life, you would do well to contribute to a meaningful life. And what about digital? If you want to optimize touchpoint and create better customer experience, adding to the meaningful live of people can result in much more engagement.
At TrendsActive we've been keeping a tap on why and how people search for meaning, as it is a fundamental part of their lives. Especially now in times of Corona it seems that the needs, values and behaviors that surround the meaningful live will be amplified. But what are these needs? Here are three big insights from our long-term sociocultural trend research.
Three insights into a meaningful life
To provide an overview of the mountain of opinions and academic research, we analyzed and synthesized all information and reduced it all to three insights that show what people do to experience meaning in life.
1. Mental well-being
Mental well-being enables people to live meaningful, committed and productive lives. Thanks to good mental health, people can learn to deal with setbacks and therefore become more resilient. This then enables people to do what they want to do, and to become better at it. There is a growing awareness of the importance of mental health, as many people have or know someone suffering for mental pressure. The WHO predicts that by 2030, depression will be the number 1 disease globally. Understanding that people need their mental capital to succeed in what sociologist call the 'performance society' is a good start for brands who want to become more relevant in this space. And as corona is increasing the pressure on peoples mental wellbeing, brands should define strategies to be of meaning.
2. Social ties
To lead a meaningful life, it is crucial that people as individuals feel connected to others. This gives people the sense of belonging. Now that corona is isolating people from each other, it becomes visible for anyone how strong this need for social connection actually is. Brands should wonder how they can facilitate social connection with or between people. Not just now before corona, but als after corona, as this trend was here and will definitely stay here. For example, Beer brand Leffe is bringing both Belgium regions (Wallonia and Flanders) together. They created a 400-kilometre terrace along the language border of the country. This 'Nationaal Terrasse Nationale' consisted of 1,000 tables where 1,000 Flemings and 1,000 Walloons could sit down together to have a good conversation while enjoying a Leffe beer.
3. Transcendence
The third trend insight is about the need for transcendence: a feeling that people experience as an individual when they feel part of a greater whole. When people experience something that 'transcends' their own life, they experience a sense of meaning. Going out in nature, being inspired by art, or focused listening to music, can make people experience deep emotional connections to something intangible. It provides a kind of orientation for living in todays complex society. And according to psychologist, it is essential for living the good life. Brands that can provide transcendent experiences, both on- and offline, can create deeper connections with their target audiences. For example the brand Rituals, and its global succes, is built on the spirituality, mystic and aesthetics that provide such a transcendent experience.
The big question here? Is your brand turning the 2020s into the decade in which your brand gains long-term added value by contributing to the search for meaning? Understanding the sociocultural context of human needs, provides a wealth of inspiration for the future of managing brands. The Search for Meaning trend report is now available as the first output of the official collaboration between BrandTrust and TrendsActive. Use it to become a leader!