Find what you love and never settle for anything less
Steve Jobs
We at BrandTrust are privileged to be able to work with the most exciting companies in German-speaking Europe. From DAX30 enterprises all the way to small vineyards. What we do for them? First, we listen very closely, ask questions – for as long as it takes us to find the substance we need to start our actual job: working on the brand.
We are the "good guys" among consultancies, we don't restructure and we don't dismiss people. We make entrepreneurs and employees proud. Create values that last. We make companies immortal.
From the beginning, we – meaning every member of a project team – are directly docked to the leading functions or to management. Because a brand is a matter for the boss, so it must be handled at the top. In our work, we meet extraordinary people who impress us every single day. Whose expertise we appreciate, as it shapes us as well.
As different as we BrandTrust employees are – we have much in common. We are intense people. We all want to create something new. Starting from the core of the brand, we want to rethink responsibilities, take supposedly impossible paths. But we also want to preserve the relevant things!
The feeling of being part of the BrandTrust family and working together with our clients' historically developed values and peak performances is unparalleled. That is probably because we have all found what we love in our work.
BrandTrust Academy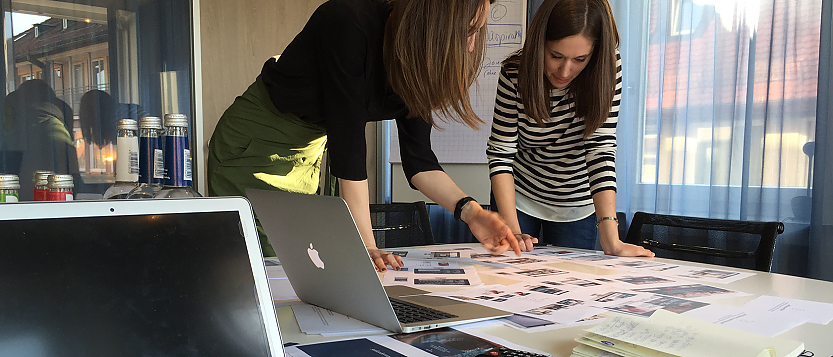 Learning along the Employee Journey
What we do, they don't teach at universities. Even an experienced new colleague at BrandTrust will initially be sailing in uncharted waters – at least regarding our methods, tools, and processes. We have high expectations of our employees, but we also know: It is our responsibility to enable them to satisfy those expectations.
The "employee journey" begins with the BrandTrust Bootcamp. Sounds disconcerting? But it really is extremely exciting and intense! Whether fresh from the university or with years of professional experience, whether new talent in the back office or in consulting – the first two weeks are spent introducing our new employees to the BrandTrust world. Where do we come from? What have we done so far? What are our convictions? Und when do we not do something – and why?
The BrandTrust Academy is on-the-job training to support all employees with learning about particular topics in more depth – tailored precisely to whatever point they happen to be in their personal development. First client contact? First facilitation of a workshop? First leadership responsibility? First client responsibility? We accompany our employees along their journey – and support them with workshops, tutorials, or simply with personal coaching.
Content Events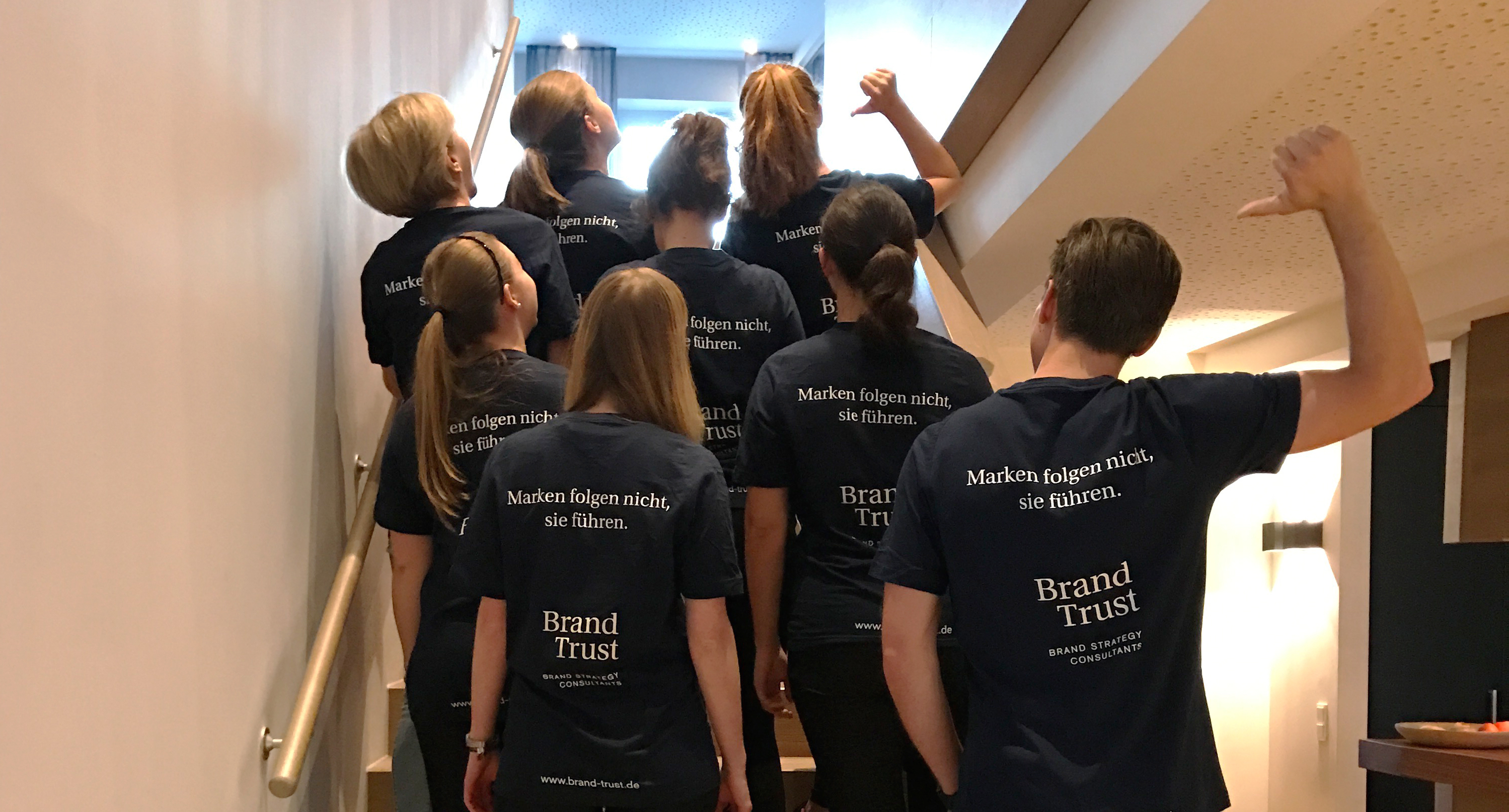 Since BrandTrust was founded in 2003, we have been meeting twice a year: for our so-called annual target meeting. Originally it was meant to be an opportunity to reflect on the past half year and as a forecast for the coming half. But since then this meeting has turned into an inviolable date in our (rather full) calendars: Reports from the various departments, ground-breaking insights, strategic management decisions – everything is introduced at this meeting or worked through in joint workshops.
These days, our teams work quite independently. This is why it is such an event for us to get the whole crew together in one place and interact with all colleagues. The choice of location is an important matter: We always combine our meetings with a client "meet and greet". Depending on where the company is located, our entire staff may wind up in St. Moritz for a few days, or in Bozen in wonderful South Tyrol, or in Schwäbisch Hall.
With our event series BrandTrust Impulse, we want to give our employees valuable impulses, sometimes from businesses completely unrelated to their field. Impulses they can use for themselves and for their work. Improvisation theater, memory training, writing instruction from journalists, acting classes. We allow ourselves to be inspired and make ourselves think differently. And most of all: We have fun!
There is nothing like a splendid breakfast. At our Business Breakfast, which takes place once every quarter, we get together with full stomachs and a fresh mind to exchange new tools or discuss workshop methods, get opinions from different teams or summarize seminars we took. We enjoy doing it without the PowerPoint presentation but in the casual atmosphere of our "living room", as we call our internal training room.
BrandTrust Moments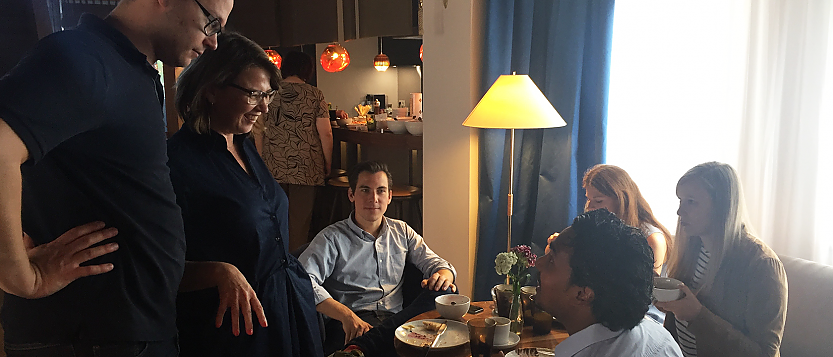 When suddenly all employees at our Nuremberg office drop their pens, interrupt meetings, or cut off internal phone calls, then we know it's time. Everybody knows where to go now: to the bar! A glass of Champagne is waiting there for everyone, because: somebody rang the heavy brass bell that hangs in our lobby. That means: Another company has decided to work with us! After the future project manager briefly reports on the upcoming challenge, we all raise our glasses and enjoy the moment of success together.
Around lunch time, the noise level rises, clattering plates and muted laughter mingle to form a sociable kind of background noise. Employees are getting together in our kitchen studio to have lunch together. This is always a lively occasion: While some prepare their lunch in the open kitchen, others bring their take-away food to the table. Thanks to our central location in the heart of Nuremberg, the culinary options are virtually unlimited. Sometimes we all just order out for Sushi and enjoy a break with our colleagues.