Destination Branding - von der Geographie zur Bedeutung
29. Oktober 2016 ▪ Reading time: approx. 2:10 min.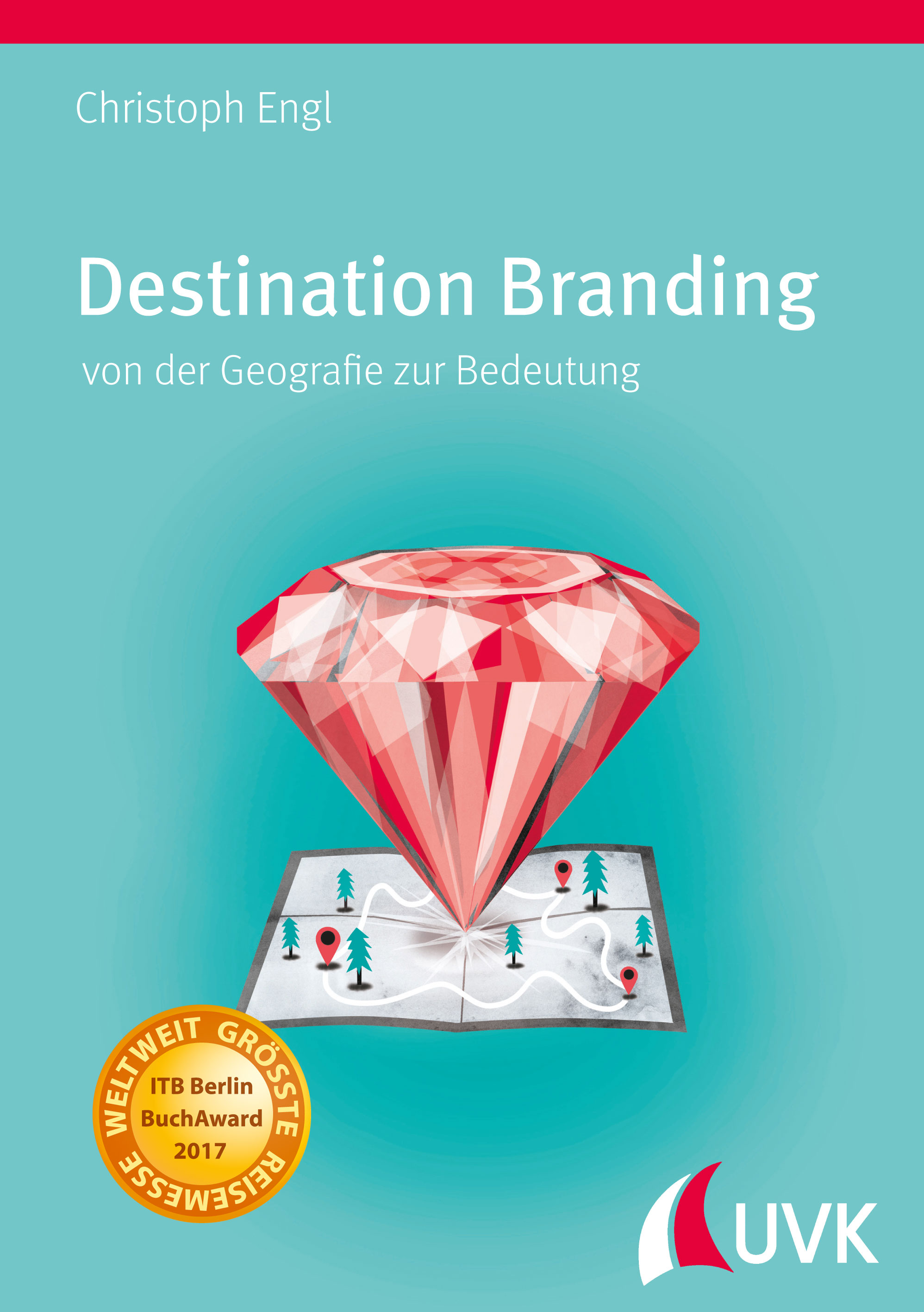 Christoph Engl's Book "Destination Branding - Von der Geografie zur Bedeutung" – the first textbook to unite the topics of brand and tourism – was released in October 2016. On his journey through the world of destination brands, the tourism and brand expert takes a variety of perspectives, so the book offers valuable insights not just for professionals but for anyone interested in the tourism industry.
The book received the ITB BuchAward 2017 in the category "Tourism Textbook".
About the Author
Christoph Engl is a legal scholar with a remarkable career: He first worked for several employer organizations in South Tyrol, then became the director of the 5,000 member Hoteliers- und Gastwirteverband (Hotel and Restaurant Association) of the region, and finally in 2001 changed tracks to marketing as the Director of Südtirol Marketing AG. During his tenure there, Engl was instrumental in introducing the umbrella brand Südtirol with the goal of elevating the image and attractiveness of the destination Südtirol to a new level. Since September 2013, Christoph Engl has been Managing Director at Brand Trust GmbH, the leading management consultancy for effective brands. Since early 2014 he has also been a regular columnist for FOCUS online.
The first textbook on Destination-Branding
Why is good marketing not enough? Why is it not sufficient to do excellent work in communication and sales? When do destinations need to consider the topic of brand and brand management?
In the days of little competition and largely unsaturated markets, it was enough to deliver excellent performances in the marketing disciplines of sales, communication, and product development. Now, in times of intense competition and market saturation, these instruments are beginning to fail. This fact is forcing not just tourism but many other industries to change their established thought patterns and business models.
In this first industry textbook from a brand perspective, Christoph Engl advances the thesis that the effects of geography and public awareness of a destination are overestimated. Destinations, places, and regions only become desirable when their geographic designation takes on an emotional meaning for the consumer. This is the moment when a name becomes a brand.
Brands are always the condensed expression of current and future peak performances – that goes for destinations as well. A destination brand gives a place distinct recognition in the customer's mind and with a focused positioning sets it apart from competitors.
Basic prerequisites for brand status are always the performances perceived by the customer, no logo or campaign can change that fact. Tourism is performance, not advertising. Building a destination brand means giving the existing geography a new meaning. This is the power of a brand. It makes a destination relevant for consumer decisions, with clearly associated and attractive peak performances.
Like a cookbook, one does not need to read this book cover to cover to grasp its message. Selective readers will find the information they seek, as will those who are just browsing, looking for inspiration, or skimming. All chapters are self-contained and summarized at the end into three core insights for readers with little time to spare.
While the first part contains ten basic recipes for destination brand management, the second part of the book deals with brand management methods to be used by successful destination and region brands. The third part introduces recipes that are crucial for excellent perception control for destination brands. The fourth part provides recipes for managing brand touchpoints of region brands. To compose the perfect menu for each destination brand, the tourism expert initially offers several menu suggestions, so-called "reading menus" – individually tailored to various problem scenarios.
The textbook released by UKV Verlag addresses a variety of target groups. Whether within the menu suggestions or in individual recipes, whether destination manager or tourism enthusiast, hotel owner or cableway operator: on this journey through the poignant world of destination branding, this great recipe book of brand management offers the reader surprising insights, provocative theses, and lots of concrete examples.
Verlag: UVK Verlagsgesellschaft; Auflage: 1. Auflage (24. Oktober 2016)
Sprache: Deutsch
ISBN-10: 3867647259
ISBN-13: 978-3867647250
Hard cover: 312 pages
Order now