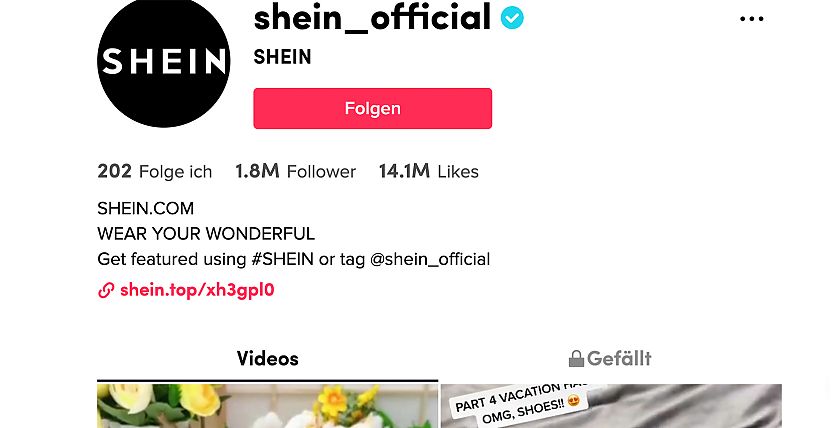 Fashion shop for bargain goods: Why is Shein so attractive?
Article
14. Juni 2021 ▪ Reading time: approx. 1:50 min.
Shein, an online shop from China, is a super-hot topic for Gen Z at the moment. 39 percent of people aged 16 to 24 are said to have talked about it with friends and relatives, the market researchers at Appinio found out.
The online shop Shein is the fastest-growing shop of its kind worldwide; its revenue quadrupled last year. For comparison: The number of app downloads for Shein is 230 million, for Zara it is 90 million, the business journal Manager Magazin shows.
What is it about this label? To find out, I did an experiment. I explored the shop by embarking on my own customer journey. These are my learnings:
1. Orientation – despite an overwhelming product range at rock bottom prices
Wow: On its website, the online retailer proclaims more than 500 new fashion pics each day (!). Still, I am not overwhelmed, the search algorithm learns fast. The page quickly invites me to order, spurred by lots of discounts and gifts. The intuitive structure and the many product reviews by other buyers help me to choose the right products.
2. Persona: The frugal fashionista who reinvents herself daily
The whole product range is tailored to the trend-conscious fashionista. Which I am not, and I order anyway. I want to feel like one, at least. The items delivered to me are packed in plastic and "challenging" in terms of olfactory properties. I automatically think of them as low quality. My impression is confirmed when the seams come apart after the first wash. Oh well, the short lifespan of these clothes will "hopefully" (Look out: sarcasm!) result in more space in my closets (S. 3).
Nevertheless, Shein skillfully prods the buying impulse with flash sales of limited editions. A clever points system animates the shopper to buy regularly and upload product reviews. Photos of outfits tried on by other users help find the right size. While at Zalando I can only see written reviews, Shein lets me see what the clothes look like on other users.
3. Continuous incentives thanks to masterful staging
Shein is casting its spell on the TikTok generation. The fashion bloggers, also called #Sheingals, use the platform to control our perception of attractiveness. Though the shipping time from China takes some getting used to – I waited 12 days for my order – the momentum of anticipation actually does last that long.
Returning an item is not as easy as what we have come to expect from other e-commerce shops. I have to find the return label in an app, which is a chore, and then print it myself. That is a big fat pain point. Still, Shein celebrates my successful return with a big "Woohoo".
What Shein is doing right from a brand perspective:
Trouble-free pre-purchase and purchase phase very close to the customer
Best knowledge of Gen Z and the buyer persona
Brand language adapted to the jargon used by the target group
Extreme customer retention through a loyalty program (collecting points)
What Shein could do better from a brand perspective:
Simplify the awkward post-purchase phase and pepper it with more Wow-moments
Sharpen its peak performances and shorten delivery times
Improve translations of the web pages into other languages
Address not only social sustainability, but ecological sustainability as well – to improve perceived quality.
Will I order from Shein again? I think I'll stand my ground and go back to shopping in line with my personal values. Now that I'm in my mid-thirties, my standards of quality and durability are getting higher ...