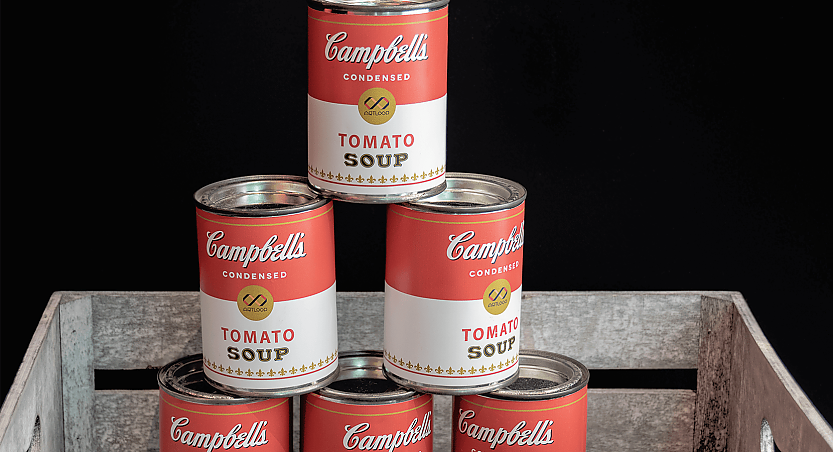 How Andy Warhol became the leading Pop Art brand
Article
6. August 2018 ▪ Reading time: approx. 3:40 min.
"The brand Warhol is rebellious. It is all about rediscovering art and breaking with its seemingly ironclad rules – expensive, elitist, every piece unique."
We all know them: The prints with motifs that repeat in bold colors, like the one of 32 nearly identical Campbell's soup cans. Or the face of Marilyn Monroe, in quadruplicate. Or a demolished car, shown 16 times. They are all works by Andy Warhol, the most famous representative of Pop Art.
Andy Warhol was born 90 years ago, on August 6th, 1928, in Pittsburgh, PA. The fact that from among the thousands of artists of his time he rose to emerge as the greatest icon of Pop Art is owed to five factors. The fact that he succeeded should come as no surprise: Prior to his career in the arts, he was active in New York's brand and advertising business.
1. It goes for art, too: A brand needs peak performances
Warhol's work is unmistakable. His style is rooted in the fact that the artist was an expert silk screen printer. It is a relatively simple printing process, where color is applied with a rubber scraper through tightly-woven fabric, the screen. Warhol perfected screen printing for his art, so that every piece clearly bore his flat, bold style of expression.
So Warhol's brand does rest on real peak performances of craftsmanship, which admirers (and wealthy buyers) recognizes in every one of his works. He also optimized screen printing for totally mundane economic reasons: He used the process to quickly reproduce his art in large quantities, which was an essential element of his attitude.
2. Warhol's works express his will
Warhol's basic idea was to make art understandable and accessible to everyone. He wanted to break the chains of elitism and bourgeoisie. To do that, he chose as his subjects normal everyday objects like the 32 Campbell's soup cans, because they were available in 32 flavors. His work was representational, not abstract like that of his famous contemporary Mark Rothko.
Art should be approachable, realistic, and show familiar objects or people in a new light. This was Warhol's artistic will. Initially, he was met with an enormous lack of understanding: At his first exhibit in 1962 in Los Angeles, only five buyers were interested in his 32 Campbell's cans (which, however, he was only willing to sell as a complete ensemble). Still, he stayed true to himself and did not revise his decision to be an artist – after all, he had been a highly paid graphic designer. He reinvented himself and stuck with his decision and his idea of art.
Warhol did not bend. He held fast to the idea behind his brand. This is still paying off even today, more than 30 years after his death. The New York Museum of Modern Art (MoMA) sold his ensemble of Campell's cans for 15 million dollars in 1996.
3. Warhol's art – the opposite of common and interchangeable
Even though the Pop Artist printed entirely common everyday objects, his works were never interchangeable. That is because of their delicate disassociation and the omnipresent repetition. These became Warhol's unmistakable trade mark and made most of his works recognizable.
This steady emphasis on quantity and repetition is actually at the heart of Warhol's work. He took the concept to extremes later in his famous "factory": During peak times, up to 57 employees reproduced his works and made the screen prints available to many. The brand Warhol is rebellious and wants to involve people. For him it is all about rediscovering art and breaking with its seemingly ironclad rules – expensive, elitist, every piece unique. This clear attitude comes across in his style and makes sure that his works never sank into the monotony of interchangeable art.
4. Warhol's art is relevant – because he deals with great topics of the future
Strong brands don't get dusty. They are always at the forefront of their time, without betraying their convictions. Warhol picked up on the contradictions of his time and dramatized them. He opposed the public greed for status and stars (Marilyn Monroe) with the longing for fame ("In the future, everyone will be world-famous for 15 minutes") and excessive consumption.
The artist addressed the issues of his time, which made him relevant as a brand. Particularly the attitude toward consumption is a basic idea for the quantification he expressed in his art (32 kinds of canned soup) and with the "factory".
5. The brand Warhol lives on storytelling
Andy Warhol himself was rather taciturn, almost shy. And yet he made a name for himself as a teller of stories about himself and his work. All his life, he flirtatiously flaunted his many relationships with movie stars and musicians, wove his experiences with them into his art and thereby gave it a higher meaning.
His physical appearance is also part of the story: He always showed himself with a white-blond wig, black sunglasses, and deliberately vain behavior. The greatest story about the brand Warhol is the one about the assassination attempt. The feminist Valerie Solanas fired at him at his "factory" in 1968 and wounded him critically.
Warhol largely recovered and used the public attention for his brand story: He gave interviews, had fashion photographers take pictures of his scars, and sold prints damaged by the shots. His way of dealing with the situation is certainly debatable, but one thing is certain: The dramatic event gave Warhol's career the decisive boost – not least because he used it correctly in his brand story.
What can we learn from Andy Warhol?
In art as in everything else, a brand is always an expression of will. Warhol taught us this, but so did contemporary artists like Richter (Wie sich Gerhard Richter als globale Marke etablierte (How Gerhard Richter established himself as a global brand)) or Baselitz (Georg Baselitz: Darum ist der Künstlerrebell eine gefeierte Marke (Why the rebel artist is a celebrated brand)).
This means two things for managing a brand in a market economy:
• A company needs a clear idea. It has to decide on an attitude to emphasize the uniqueness of its brand.
• Secondly, it simply means discipline and endurance, to stick with that decision consistently for many years – in all products, interactions with customers or ad campaigns. That takes a strong will – especially in a head wind.
Andy Warhol built a global brand and gained fans who were willing to pay more than 100 million Euro for his works. Ultimately, a strong will expressed in a brand pays off monetarily as well.
Do you have any questions on this article? Write us an e-mail.