GOOD Business – das Denken der Gewinner von morgen
Companies have to let go of old thought patterns and pure profit orientation. The future belongs to the GOOD Business economy – an interaction of economy, ecology, ethics, and integrity. The book provides the necessary thought and action framework for decision makers.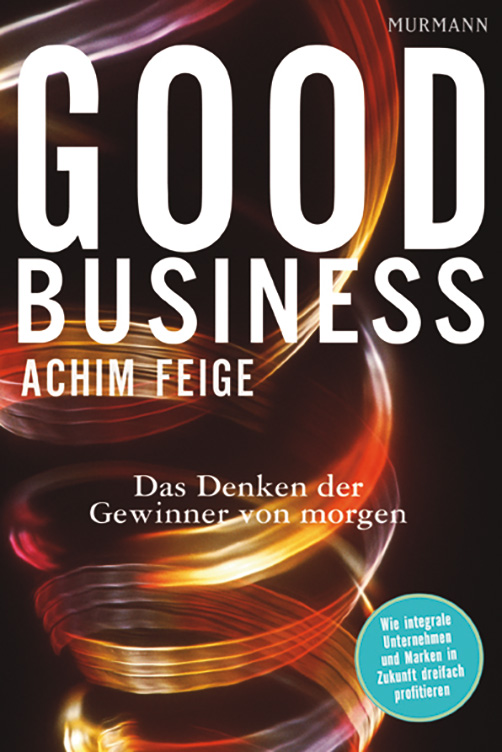 Our economy is facing a paradigm shift: the "Everything-at-any-price" economy is about to abdicate: Thought patterns that revolve only around a company's own economic success and block out everything else – the social and ecological consequences of one's own actions – is not only out of date in a global, transparent world. More importantly, it is less and less successful.
The future belongs to the GOOD Business economy, because it unites economics, ecology, ethics, and personal integrity. "Good" companies and brands will achieve a triple benefit in the future: a human, an ecological, and an economic benefit.
In this book, entrepreneurs, managers, and brand strategists are introduced to a courageous and at the same time practical thought and action framework, which they can use to successfully usher their brands into the new age. They find out:
what social values are becoming more important to customers.
what kind of thinking we need to leave behind to be successful in the future.
how companies can evolve with an integrated brand strategy.
what sets GOOD Brands apart from illusion marketing and profit-oriented companies.
what GOOD Brands are already role models today and why they attract the best talent.
how to conduct successful brand management after the end of the marketing and advertising era – and why Apple and Google are not GOOD Brands.
In short: Companies find out why it pays to be good.
What readers think:
"Not a book for superficial rush-rush thoughts, but a basis for a sound contemplation of the world of tomorrow and the strategies companies and managers are using."
Andreas Pawlitschek / BMAA/ Division for Cultural Public Relations/ Vienna
"Achim Feige's new book GOOD Business is not a pure instruction manual for brand management. It is more than that. It is an appeal to decision makers in business, society, and politics to adopt a new consciousness. Because only when we realize that we are living on an economic tectonic fault line and need new ways of thinking and acting will we be successful. What is typical for the author is his sound theoretical base, which he molds into a compact model of good brand management to inspire entrepreneurs and members of the C-Suite. The examples show that we are at the onset of a new development and that it is possible to be GOOD and make a profit."
Mag. Susanna Wieseneder/ Personal Counseling/ Vienna
Publisher: Murmann Verlag (2010)
Hardcover: 211 pages
Language: German
ISBN-10: 3867741077
ISBN-13: 978-3867741071