Brand Future – praktisches Markenwissen für die Marktführer von morgen
Achim Feige, leading expert for future-oriented brand management, describes how companies can successfully guide their brands into the future. His insights are based on seven evolutionary laws of brand management.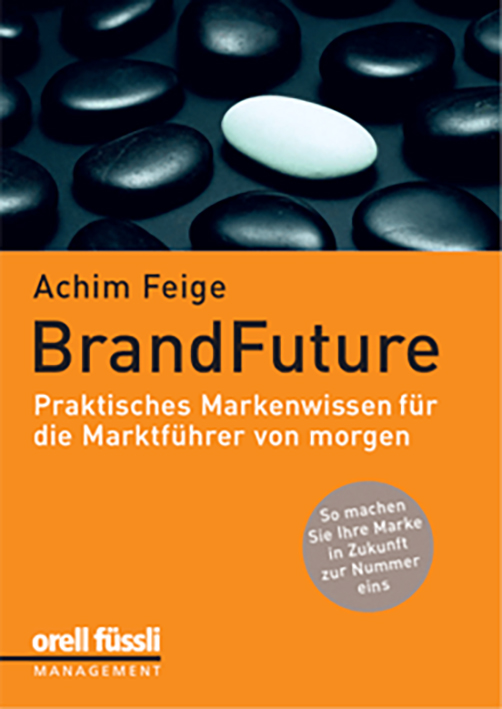 What opportunities and problems will brand strategies and brand management face in the coming years? What trends and customer needs will companies absolutely need to pay attention to? Achim Feige describes how brands will need to be led into the future in order to remain successful: "Brands are not made in seven days, but settle over years and decades in customers' minds. This book is intended to show you how to systematically build a No. 1 position in the future." To do that, Achim Feige presents seven evolutionary laws of brand management and offers a practice-oriented guideline.
The chapters:
Challenges for brand management in the 21st century.
Seven commandments as fundamental and timeless laws for brand management
The defining mega-trends for brand management
The new life scarcities and eight big consumption sectors
Subconscious future: Archetypes and cultural codes for brand management
BrandFuture practice: In five steps to the future No. 1 position of your brand
Ten consequences for brand practice
The method described in the book works independently of currently dominant marketing trends. It is based on proven success principles that have prevailed over millennia in the competition of ever-changing life. The book looks into the past and the future at the same time, says Achim Feige:
"The dynamic approach of BrandFuture works within the field of tension between the past that shaped a brand and its values, and a future for which it has to be prepared."
What readers think:
"Achim Feige is one of the few who can apply the theory of trend and future research to concrete brand practice. Brands are myths that change over time – that is precisely the point this book makes."
Matthias Horx, Owner Zukunftsinstitut GmbH
"BrandFuture is the most inspiring work I have read in the past months. The sustainable success control of brands with a combination of principles of evolutionary theory and the most important movements and trends of the 21st century is compelling. A must-read for every brand manager and marketer."
Martin Waeber, Manager Marketing Private Banking CREDIT SUISSE
"With a sure sense of people, brands, and trends, Achim Feige shows what options brand makers have at their disposal for making their brands fit for the future."
Tomas Vucurevic, Global Brand Manager W.L. Gore & Associates GmbH
 
Publisher: Orell Fuessli (2007)
Hardcover: 238 pages
Language: German
ISBN-10: 3280052408
ISBN-13: 978-3280052402