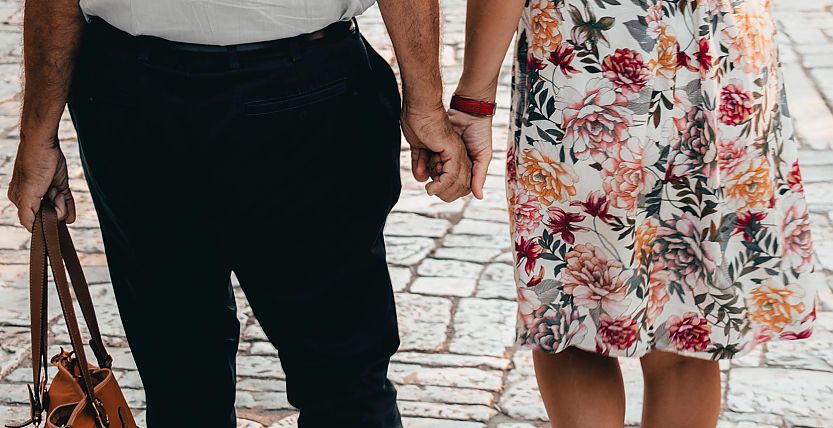 5 Rules for more Brand Loyalty in the Digital Age
Article
29. Juli 2019 ▪ Reading time: approx. 2:50 min.
Anyone who wants loyalty these days has to earn it the hard way: with a no-line brand world that emphasizes brand values, provides experiences, and fosters a sense of community.
It is more difficult than ever: Retaining loyal customers. Making first-time buyers into convinced fans. Loyalty? A thing of the past, it seems. What has happened?
The question can be answered from three perspectives:
Consumers: People have adapted their consumption habits to digitalization. They benefit from an enormous global range of choices, which makes them more demanding, critical, and willing to change. Especially the millennials, the economically strong generation of the future, are said not to be very loyal to brands.
Society: We are living in a post-fact age where solid arguments have little chance against personal opinion. Fake news and shit storms can destroy a brand's credibility in an instant. This makes it difficult for brands to build a following – because every fan is followed by a critic.
Markets: Many new brands are pushing their way into already saturated markets – among them new varieties called micro brands or impact brands.
Despite the many changes that practically invite brand disloyalty, brand loyalty remains a highly relevant KPI, a measurement of the profitability of a business. So we have to find out: What drivers do we need to earn loyalty in our digital, hectic consumption world?
You should observe these five rules:
1. Emphasize your peak performance – online as well as offline.
Even though digitalization causes fiercer competition – it plays right into the hands of reputable brands. Thanks to the new communication culture, blow-hards and deceivers are quickly exposed. This is the perfect opportunity for reputable brands: They can position themselves as the strong antithesis that gives satisfaction and deserves trust – the foundation of loyalty.
But that only works when peak performances and core competences are carved out and intelligently communicated. At all touchpoints, offline as well as online. Those who can't handle that should stay away from the markets' digital games.
Simply put: A clearly recognizable peak performance is your ticket to customers' trust and loyalty.
2. Take advantage of the force of habit
An incontrovertible rule of brand management says: A brand has to use what is already there in the customer's mind. Of course that holds true in the digital age as well. Even at online touchpoints, consumers have to recognize their brand immediately. But that won't happen if brands use the latest trends and current fads. Instead, they have to use what has made them unique for years, the capital they have stockpiled. Habit reinforces the much coveted loyalty.
So stay true to yourself. Don't be tempted into ill-considered logo changes. The luxury sector, usually such an influence on the market, shows us what not to do: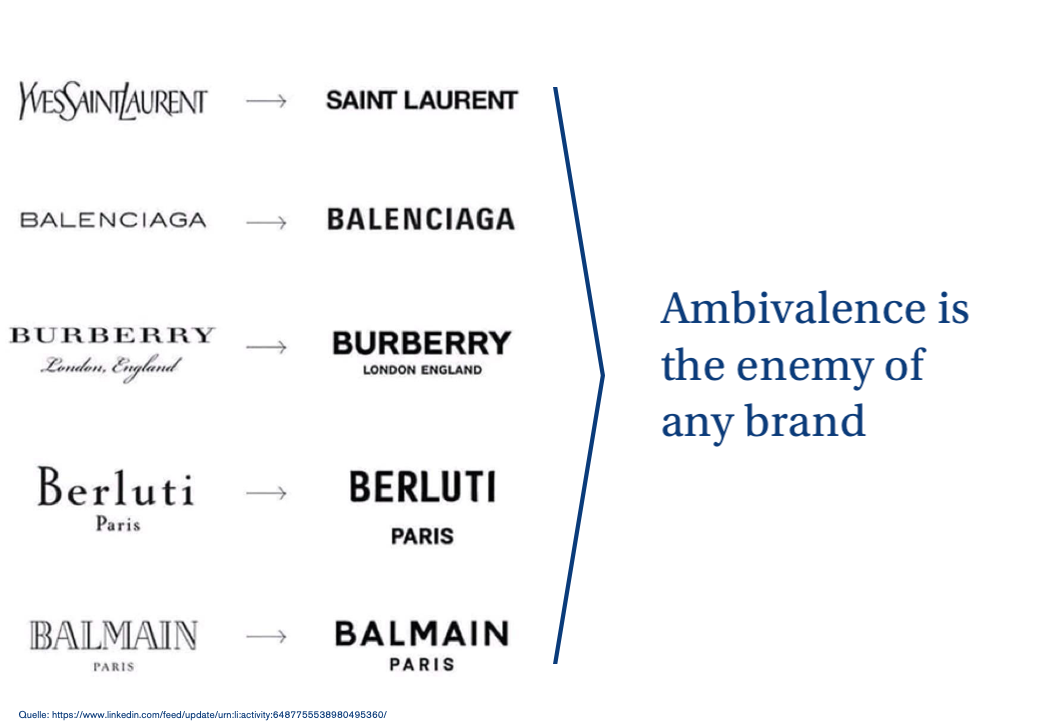 3. Place your fans center stage

One example to start: 3 % of Mytheresa fans generate 26 % of the company's revenue. Just think what they could do if they increased that number tenfold! Fans are the treasure of every brand – at BrandTrust we have advocated this theory for more than a decade. And it has not lost one iota of significance.

The theory purports: When a brand credibly represents its values, it attracts like-minded people who turn into fans. They act differently from customers, because they remain loyal to the brand even when times are tough. They forgive mistakes and recommend the brand to others. They are willing to pay more and ignore cheaper alternatives.

A fan feels that he belongs to the brand's inner circle. He opens up and reveals part of himself. At this stage, the connection with the brand is so firm that hardly anything can shake it. Companies who practice participatory brand management – meaning they let fans take part through co-creation and direct interaction – win their hearts permanently and create a lock-in effect.
4. Brands satisfy desires – with experiences
In our high-tech world, consumers expect brands to satisfy their deepest desires. Their strongest motivations include the need for safety, validation and support with tasks of daily life.
For brands, that means: They have to be there when the customer needs them. Present the right offer at the right time. To do that, they need an intelligent no-line experience (offline and online): The brand touchpoints have to be orchestrated perfectly and interlock seamlessly. They are not lined up in linear fashion but form a network, allowing the customer to immerse himself in the brand world.
5. Keep calm – avoid action for its own sake.
A customer journey has to be filled with attention-grabbing, divertive Wow-moments. They should convince customers of the brand over and over, and stamp out any doubt and reasons to switch.
The basis for this lively bustle always was and still is resolute and consistent brand work. No flighty hectic but a strong serenity. This purposeful confidence radiates into every single touchpoint and creates trust and loyalty.
In the digital age it takes much more than advertising slogans and a good product to ultimately make customers into habitual buyers. Anyone who wants loyalty these days has to earn it the hard way: with a no-line brand world that emphasizes brand values, provides experiences, and fosters a sense of community.