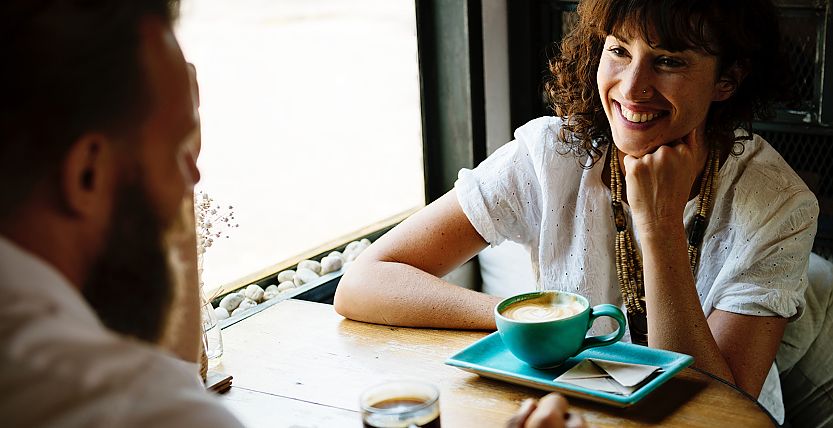 Brand Humanization: What brands have to do with dating
Article
27. Mai 2019 ▪ Reading time: approx. 3:30 min.
There is one thing that cannot be imitated with digitalization: a real relationship.
"We need to digitalize everything, right now!" This is a common reaction of SMEs and corporations who have hesitated for years and then want to catch up all at once. They are convinced that they need complete digitalization immediately. But is that really true? Let's analyze the situation step by step:
From the macro-perspective, we initially find: Digitalization is really just a means to an end. Sure, it allows you to network across countries, language barriers and time zones. But that's nothing new – after all, companies have been dealing with that for 30 years.
In the medium term, those companies will come out ahead that are already showing pioneering spirit and bravely seeing digitalization as an opportunity. Other companies will not survive the digital transformation – it is, after all, about stepping outside of your comfort zone, dropping old success patterns and building a fitting, refreshed corporate culture.
Communication, processes, procurement: Everything is being digitalized by and by, until one day even the very last cog is networked and companies have reached the limits of marginal utility. This is why at BrandTrust we say: Digitalization is not a long-term competitive advantage. Some day it will be a prerequisite, a must factor.
Farsighted companies are therefore asking themselves:
What will set us apart from our competition once everything is digitalized?
What makes us stand out? What will we need in the future?
Digitalization helps us to get particularly close to our customers. Data, algorithms and the exchange on the social web are paving the way. Evaluation of data, which is considered "the new oil", is becoming a core discipline.
There is one thing, though, that cannot be imitated with digitalization: a real relationship. As between people, a relationship emerges when two feel they have the same set of values and get close to one another. But both sides must be willing to open up. So one prerequisite is: Not only customers, but also the brands https://www.brand-trust.de/de/glossar/marke.php have to let their hair down, trust the other with their secrets and exude warmth.
So the question is: How can your brand open up? What is important?
1. Values and culture provide the basic structure – and are more important than ever
Even in the digital world, it is crucial to know the following: What do you stand for? Whom do you want to attract? Poise and position are pivotal in the first step of digitalization – not just technology. If the exchange with the customer is to succeed in the long term, you need to be clear about your profile and your set of values.
It's like preparing an online dating profile or Tinder account: You first have to describe yourself and your values in more detail. By means of your preferences and strengths, for instance. Mere age and gender are not enough to let the other partner get a feel for who you really are.
Brands too have to express their character clearly, consistently across all brand touchpoints – and always the same way. Because you never know where you might run into your next love, who decides in a matter of 1 to 3 seconds whether you are likeable and a suitable candidate for a rendezvous!
2. Signaling closeness and approachability – brands have to be more than skin-deep
After some initial mutual sniffing-out, brands have to take the plunge and commit to the customer. They have to build a "new closeness" to their customers. Those who rethink the concept of customer relationships and focus on the quality of their touchpoints will benefit from their customers' satisfaction in the long run: both during the various purchase phases and in terms of their recommendation rate.
To make this happen, brands have to learn to listen. It is the only way to learn the wishes, buying motivations and secret desires of consumers. In turn, they can then develop the right products and services and probe further opportunities for adding value.
3. A peek behind the scenes – sharing secrets builds relationships
As soon as affection has developed, customers want to know all there is to know about the brand. They want to meet employees, see the premises, and experience the entire set-up for campaign shootings (not just look at the results).They want to see the perfect and the amateurish sides. They are no longer satisfied with bland, impersonal stock photos.
For this to succeed, companies and their employees need a strong digital mindset and a sense of authenticity: It is about opening up and documenting the everyday in real time. Employees must be enabled to answer customers immediately in the company's distinct voice. And they have to know the limits of the brand.
The day will come when a company does not merely produce pre-planned social media posts, but also has to react to current events or commentary. In these cases as well, the brand's handwriting has to be absolutely clear. The closeness and humanity that then become palpable give the brand an unmistakable uniqueness that will turn even the most apathetic customer into a brand evangelist.
4. Love is a two-way street
When we gather our courage and put it all on the line by saying "I love you", we only hope for one thing: an immediate return of those three most important words.
If a customer opens up to the brand of his dreams in such a way, the brand has to react immediately. It must return his likes and comments on the spot. If a fan is even willing to contribute user-generated content, that is the greatest possible homage. It means he feels he is part of the brand and drives its success of his own volition.
Closeness is the competitive edge
Digitalization depends more on company culture than on strategy. It takes values and determination to decide on a direction. As soon as an action framework has been established, top management can be prepared for it as a first step: It has to develop its management style based on these values and develop a culture of trust that allows for change. After employees have been enabled to engage in brand-conform communication, the brand is ready to face its customers as an authentic construct, engage in interaction and allow glimpses behind the scenes.
This "brand humanization" provides a sustainable competitive edge beyond technological interchangeability.